There are new legal developments being reported in the case of Jacob Chansley, aka the QAnon Shaman, following a bombshell video aired on Tucker Carlson Tonight on Monday. Carlson aired the never-before-seen January 6 video showing Chansley was escorted through the Capitol building by police when he was in the building.
His attorney revealed that there is more forthcoming on Chansley's story and he very well may be released from custody soon, he vouches.
A former federal prosecutor representing J6 clients revealed that Chansley very well may be released from custody soon.
"My client, Jake Chansley, was a big part of Tucker's first big rollout of video tonight," said his attorney on Twitter. "There is a story beyond just the fact that the Govt had video Jake's attorney never looked at. Jake is set to be released from custody soon."
"He's going to tell his story," the lawyer continued. "But Jake has also committed himself to helping me raise money so I can get into cases for J6 defendants earlier than I was able to get into his. I've spend 20 or more hours talking to Jake by phone."
"He's a very interesting young man and I look forward to meeting him in person," he added. "It is quite fortuitous that these videos are coming out around the same time as he might first be able to address them himself."
"This is the way I'm able to help Jake — I've never asked him for a singe dollar [sic] — and other J6 defendants," he said while posting a GiveSendGo link. "Generous contributors are helping them."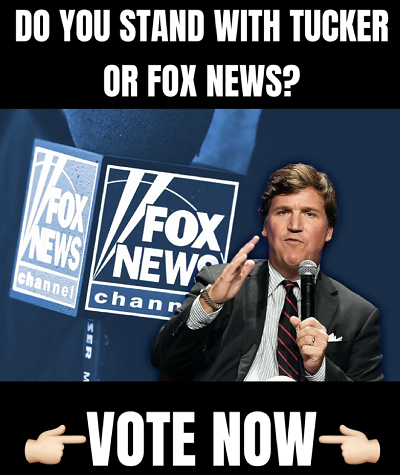 Tucker said that Chansley had been described as a "dangerous conspiracy theorist dressed in outlandish costume who led the violent insurrection to overthrow American democracy for these crimes."
"Chansley was sentenced to nearly four years in prison," he added. "Far more time than many violent criminals now receive."
"What did Jacob Chanley do to receive this punishment?" he continued. "To this day, there is dispute over how Chanley got into the Capitol building, but according to our review of the internal surveillance video, it is very clear what happened once he got inside."
"Virtually every moment of his time inside the Capitol was caught on tape. The tape show that Capitol Police never stopped Jacob Chansley. They helped him. They acted as his tour guides."
"Here's video of Chanley in the Senate Chamber," he went on. "Capitol Police officers take him to multiple entrances and even try to open locked doors for him. We counted at least nine officers who were within touching distance of unarmed Jacob Chanley. Not one of them even tried to slow him down. Chanley understood that Capitol Police were his allies. Video shows him giving thanks for them in a prayer on the floor of the Senate."
Watch:
"You saw him [Jacob Chansley] walk past about nine other police officers that didn't even give him a look. … You can see where they help him open a door to go into the Senate chamber." — @MirandaDevine

New footage shows Capitol Police escorting the QAnon Shaman on January 6. pic.twitter.com/N5uI2CLuW1

— Becker News (@NewsBecker) March 7, 2023
This January 6 video, and the 44,000 other hours of footage like it, undoubtedly contains a plethora of exculpatory evidence for J6 political prisoners. These prisoners being held for misdemeanors should be released now and prosecutors who hid exculpatory evidence disbarred for Brady violations.
Follow Kyle Becker on Twitter @kylenabecker.