Fox News has chosen Lawrence Jones, a 30-year-old self-avowed libertarian, to temporarily take over hosting Fox News Tonight, the interim show placed in the time slot where Tucker Carlson Tonight used to air.
Jones, who hosts Lawrence Jones Cross Country on Saturday nights for the network, is also reported to be the "youngest black solo host of a cable news show in history."
Here's the report from the Daily Mail:
Rising Fox News star Lawrence Jones has been tapped as the next rotating replacement for fired anchor Tucker Carlson's 8pm weekday spot. Jones, 30, will take over as the next temporary host of the rebranded 'Fox News Tonight' starting on Monday, following Brian Kilmeade's weeklong stint as Carlson's replacement, a network spokesperson told DailyMail.com on Saturday.
Lawrence Jones stepping in for Tucker Carlson at Fox News next week https://t.co/aAgT3Chon0 pic.twitter.com/Oj2e93A93I

— Page Six (@PageSix) April 28, 2023
The network contributor often hosts morning segments for Fox & Friends, where he tours the country, has breakfast at local diners, and talks to local community residents.
Meanwhile, Tucker Carlson, who was the highest-rated primetime host at Fox, made a surprise appearance on Twitter after his exit, during which he noted the importance of stepping outside of the noise and how many genuinely nice people there are in this country who care about what's true.
Good evening pic.twitter.com/SPrsYKWKCE

— Tucker Carlson (@TuckerCarlson) April 27, 2023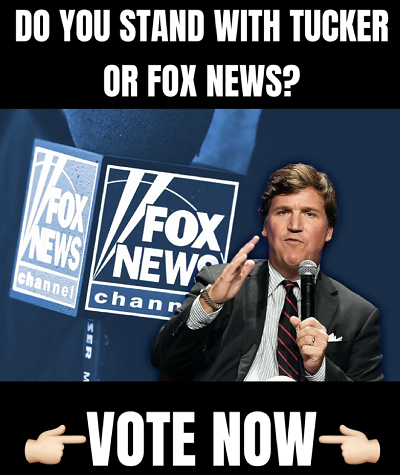 Elon Musk remarked on the viral video in a recent appearance on "Real Time" with Bill Maher.
Elon Musk and Bill Maher talk about how Tucker Carlson's video is getting more views than cable news:

— Benny Johnson (@bennyjohnson) April 29, 2023
As noted by the Washington Examiner, Tucker Carlson got far more viewership on his Twitter video than he did on his nightly Fox News shotw.
.@TuckerCarlson received higher views on his Twitter video Wednesday than the prime-time slot on @FoxNews.

Carlson's video went on to receive 16.5 million views, with 1.8 million viewing it within the hour it was posted.https://t.co/KK9zQYICqL

— Washington Examiner (@dcexaminer) April 27, 2023
TMZ reports that Newsmax, NewsNation, and the One America News Network are trying to bring Carlson to their networks.
Fox News has suffered a significant drop in viewership since Tucker Carlson's departure. The channel experienced its worst ratings since pre-9/11 in the critical 25-54 demographic, also known as the key "demo" for advertising.
On Thursday, newly-named Fox News Tonight, hosted by Brian Kilmeade, attracted only 124,000 viewers from the key demo, compared to CNN's 139,000 and MSNBC's 167,000. In contrast, Carlson's penultimate show brought in 334,000 viewers, revealing a drop of more than half of the audience for Kilmeade.
The departure of Tucker Carlson from Fox News seems to be affecting more than just the primetime slot he occupied for years. According to Nielsen ratings, Carlson's final show drew 2.65 million viewers, while the interim show "Fox News Tonight," hosted by Brian Kilmeade, saw ratings of 2.59 million on Monday, 1.7 million on Tuesday, and 1.33 million on Wednesday. By comparison, the previous Wednesday's show hosted by Carlson drew about 3 million viewers.
Sean Hannity's show, which airs at 9 p.m., saw a decline in ratings as well, with 2.5 million viewers on Monday, 2 million on Tuesday, and 1.7 million on Wednesday. In March 2023, Hannity had an average of 2.6 million viewers, while "Tucker Carlson Tonight" was the top-rated show for that month with an average of 3.3 million viewers.
Laura Ingraham's "The Ingraham Angle" also saw a decline in viewership, with 1.55 million viewers on Wednesday, two days after Carlson's departure was confirmed, compared to 2.156 million viewers on Wednesday, April 19. Ingraham's show had an average of 2 million viewers, and Gutfeld drew 1.9 million viewers. The only Fox News primetime show to see an increase in ratings was "Gutfeld," hosted by Greg Gutfeld, which drew 2.02 million viewers on Wednesday, up from 1.8 million the previous week. Jesse Watters' show also saw a decline, with 1.558 million viewers on Wednesday, down from 2.1 million a week earlier.
Fox News released a statement in response to the Nielsen ratings numbers, saying that the network has been the most-watched cable news network for 21 years and that its team is "trusted more by viewers than any other news source." A Fox spokesperson also noted that Fox News led cable news on Monday and Tuesday in both total day and primetime with viewers and the coveted 25-54 age demographic.