On Thursday, the office of Alvin Bragg, the Manhattan District Attorney, declined a request from leading House Republicans for testimony and documentation related to his inquiry into the possible indictment of former President Donald Trump.
Leslie Dubeck, the general counsel for Bragg, wrote a letter to Jim Jordan (R-Ohio), the Chair of the Judiciary Committee, James Comer (R-Ky.), the Oversight Chair, and Bryan Steil (R-Wisc.), the House Administration Chair, stating that the Republican request is an unparalleled investigation into an ongoing local prosecution, calling it "an unprecedented inquiry into a pending local prosecution."
"The investigation is one of thousands conducted by the Office of the District Attorney in its long history of pursuing justice and protecting New Yorkers," the letter wrote.
Bragg's response, a letter comprising of five pages, claims that the GOP would disrupt ongoing law enforcement operations, infringe upon state sovereignty, and constitute an improper use of congressional authority. The letter also suggested that the limited use of federal funds should not serve as justification for intervention.
"If charges are brought at the conclusion, it will be because the rule of law and faithful execution of the District Attorney's duty require it," the letter wrote.
"The Letter's allegation that the DA's Office is pursuing a prosecution for political purposes is unfounded, and regardless, the proper forum for such a challenge is the Courts of New York, which are equipped to consider and review such objections" Bragg claimed.
The House Judiciary GOP responded on Thursday and said "Alvin Bragg should focus on prosecuting actual criminals in New York City rather than harassing a political opponent in another state. Make Manhattan Safe Again!"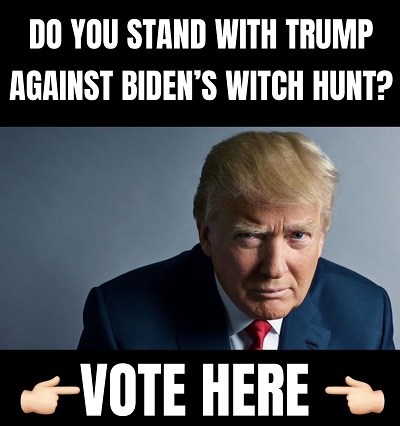 Alvin Bragg should focus on prosecuting actual criminals in New York City rather than harassing a political opponent in another state.

Make Manhattan Safe Again!

— House Judiciary GOP (@JudiciaryGOP) March 23, 2023
Trump also responded on Thursday, saying, "The District Attorney's Office under Alvin Bragg is allowing Violent Crime to flourish in New York City, like never before, while he spends all of his time making his Office, which is in total chaos, trying to find anything on 'Trump.'"
He continued, "He is doing the work of Anarchists and the Devil, who want our Country to fail. The "Horseface" agenda is dead, even by the most Radical Left Haters, but he doesn't care, he wants to go with it anyway."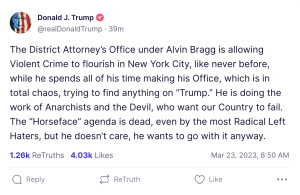 The GOP's request for testimony related to the Trump investigation now extends beyond Bragg as well. On Wednesday, Jim Jordan sent a letter seeking testimony from two prosecutors who had resigned from the New York case due to disagreements with Bragg.
"Last year, you resigned from the office over Bragg's initial reluctance to move forward with charges, shaming Bragg in your resignation letter — which was subsequently leaked — into bringing charges," Jordan wrote to Mark Pomerantz, former New York County Special Assistant District Attorney.
"Based on your unique role in this matter, and your subsequent public statements prejudicing the impartiality of any prosecution, we request your cooperation with our oversight of this politically motivated prosecutorial decision."