Screenshots have surfaced that apparently show the wife of Manhattan Supreme Court Judge Arthur Engoron, who is presiding over former President Donald Trump's $250 million civil fraud case, making derogatory comments about Trump on Twitter.
The unconfirmed report, brought to light by journalist Laura Loomer, has created more concerns about bias in the high-profile trial. Dawn Marie Engoron, using the handle @dm_sminxs, is alleged to have posted tweets containing explicit language directed at Trump, as well as manipulated images of the former president in an orange jumpsuit.
Loomer's expose also claims that Dawn Marie Engoron attacked Trump's lawyer, Alina Habba, and even targeted Loomer herself during a live broadcast for shedding light on the situation.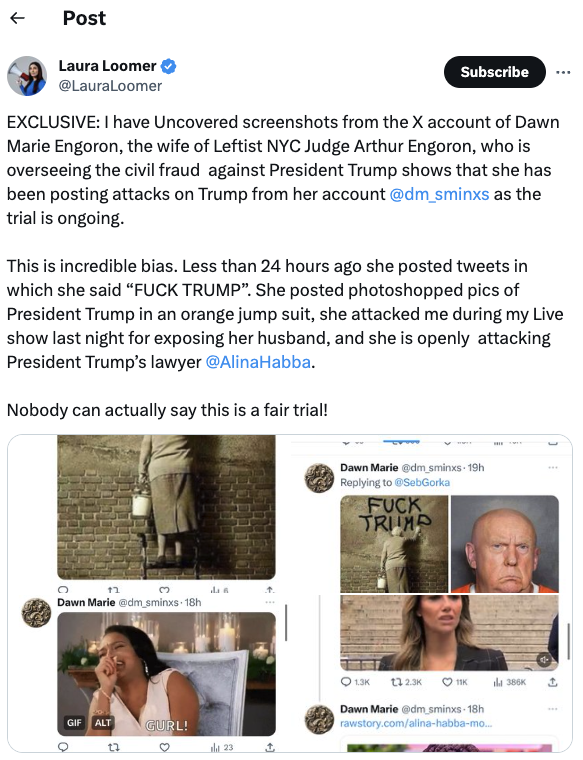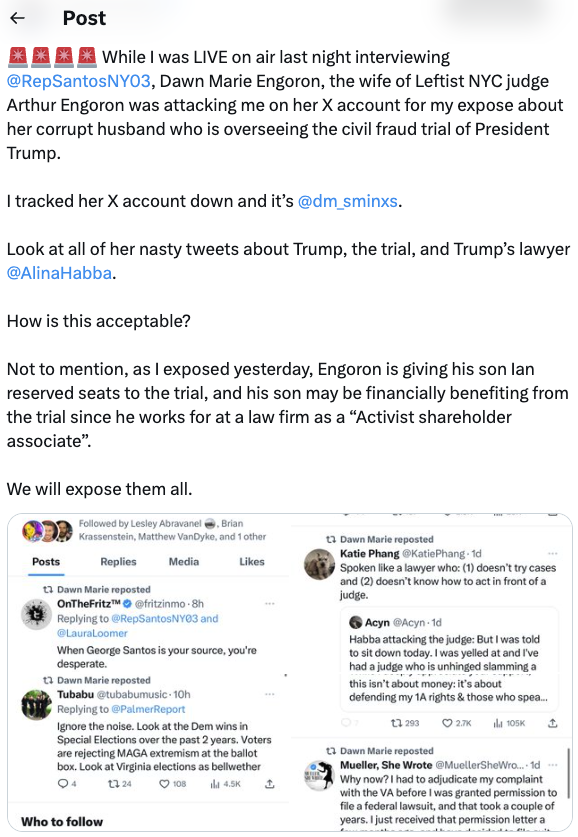 Further complicating the matter, Loomer claimed that Engoron has been providing reserved seating to his son, who reportedly may have a financial interest in the outcome due to his employment at a law firm with stakes in the case.
In response to the judge's overall conduct of the trial, Trump's legal team has raised the possibility of seeking a mistrial in the past, citing concerns over the fairness of the proceedings. All of this adds to an already contentious legal battle, where Trump has accused New York Attorney General Letitia James and Judge Engoron of conducting a politically motivated attack on the leading favorite to be the next president.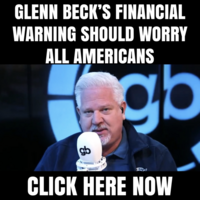 In early October, Judge Engoron issued a gag order against Trump after the 45th President blasted Engoron's law clerk in public comments to the press and on social media. Engoron told the Trump legal team on the second day of the ongoing fraud trial, "Consider this statement a gag order on all parties with respect to posting or publicly speaking about any member of my staff."
The Judge took issue in particular with a post by Trump to Truth Social that was critical of Engoron's principal law clerk Alison Greenfield, sharing an image of her with Senate Majority Leader Chuck Schumer (D-NY).
The Trump campaign sent out an email criticizing Engoron at length as a "Far-Left Democrat," attaching a litany of news outlets' reports on the Judge's extensive Democrat connections and political bias. Trump added that New York Attorney General Letitia James, whom he has sharply criticized for her blatantly political prosecution of his family, "should probably be dismissed also."
The trial reached a climax this Monday, however, after a tumultuous session when Habba had challenged Engoron's courtroom decorum. "I was told to sit down today," Habba said. "I was yelled at and I had a judge who is unhinged slamming a table. I don't tolerate that in my life. I'm not going to tolerate it here!"
"This is about more than just this courtroom, America. This is about your rights, too," Habba said.
"This is really election interference," Trump said this week. "This is fairly ridiculous. The numbers are much greater than on the financial statement. And we've already proven that. They said Mar-a-Lago is worth $18 million."
"You have a racist attorney general who made some terrible statements, and you see some more that came over the wires today. It's a very sad situation for our country. We shouldn't have this. This is for third-world countries. And it's very unfair."