On Truth Social this morning, President Donald J. Trump reacted to the shocking "Twitter Files" that proved collusion between the Democrats and Big tech to silence conservatives and help Joe Biden in the 2020 election.
"Wow! That's a really big story about Twitter and various forms of government Fraud including, specifically, Election Fraud," Trump said. "The same level of Fraud took place with the other Big Tech companies, if not even worse (if that's possible?). We are living in a VERY CORRUPT COUNTRY &, AS THEY ARE SAYING ALL OVER THE INTERNET, "NOTHING WILL BE DONE ABOUT IT BECAUSE THE JUSTICE DEPARTMENT & FBI ARE TOTALLY CORRUPT." But they'll keep investigating "boxes" that were legally & openly taken from the W.H," he concluded.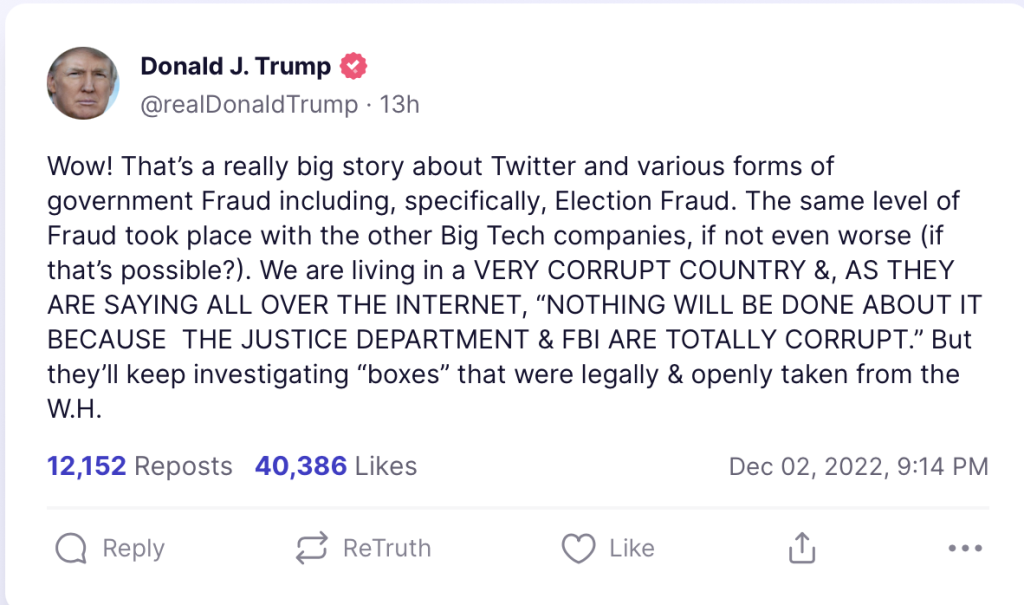 Trump also added this on Truth Social:
Donald Trump on Truth Social: pic.twitter.com/j3q22rWZpW

— ALX 🇺🇸 (@alx) December 3, 2022
In case you missed it, Mat Taibbi was given the leaked documents from Elon Musk exposing those at the highest levels of Twitter for their collusion. Here are some of the most damning files:
17. On October 14, 2020, the New York Post published BIDEN SECRET EMAILS, an expose based on the contents of Hunter Biden's abandoned laptop: https://t.co/q4zaMw6aVV

— Matt Taibbi (@mtaibbi) December 3, 2022
18. Twitter took extraordinary steps to suppress the story, removing links and posting warnings that it may be "unsafe." They even blocked its transmission via direct message, a tool hitherto reserved for extreme cases, e.g. child pornography.

— Matt Taibbi (@mtaibbi) December 3, 2022
19. White House spokeswoman Kaleigh McEnany was locked out of her account for tweeting about the story, prompting a furious letter from Trump campaign staffer Mike Hahn, who seethed: "At least pretend to care for the next 20 days." pic.twitter.com/CcXTfsdzCT

— Matt Taibbi (@mtaibbi) December 3, 2022
26. By this point "everyone knew this was fucked," said one former employee, but the response was essentially to err on the side of… continuing to err. pic.twitter.com/2wJMFAUBoe

— Matt Taibbi (@mtaibbi) December 3, 2022
27. Former VP of Global Comms Brandon Borrman asks, "Can we truthfully claim that this is part of the policy?" pic.twitter.com/Rh5HL8prOZ

— Matt Taibbi (@mtaibbi) December 3, 2022
You can read the whole thread by going here to Matt Taibbi's page
What is your reaction to this story?