In an explosive announcement Monday morning, former President Donald Trump vowed to appoint a special prosecutor to investigate Joe Biden, whom he described as "the most corrupt president in the history of the USA".
The Truth Social post, delivered in typical Trump flamboyance, also targeted "the entire Biden crime family" and "all others involved with the destruction of our elections, borders, and country itself". The promise was made amid a string of policy proposals aimed at drastically reshaping the nation's landscape.
These include closing the US-Mexico border, evicting all "criminal" elements that he claimed have "illegally invaded" the country, achieving energy independence – and even dominance – as well as an immediate ending to the ongoing conflict between Russia and Ukraine.
Trump has targeted Biden's mishandling of the border situation for some time now. Back in May, he announced a plan to end birthright citizenship for illegal immigrants with a 'day one' executive order if he is re-elected.
Trump's pledge to make America "energy independent, and even dominant again" also suggested a return to the administration's focus on fossil fuel and American energy reserves.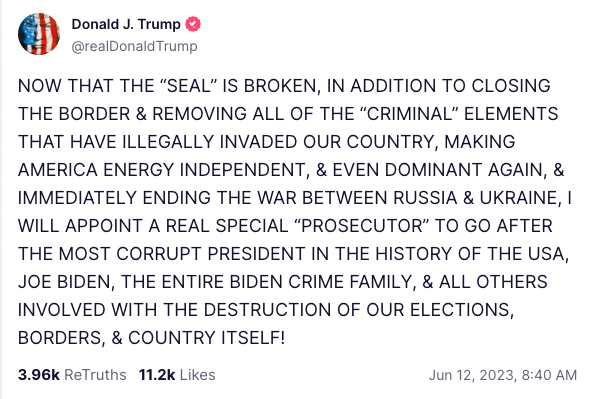 The most significant promise, however, was his vow to "immediately end the war between Russia and Ukraine." This assertion was made once again and has everyone wondering what is in store for Trump's 2024 if he gets back in the White House.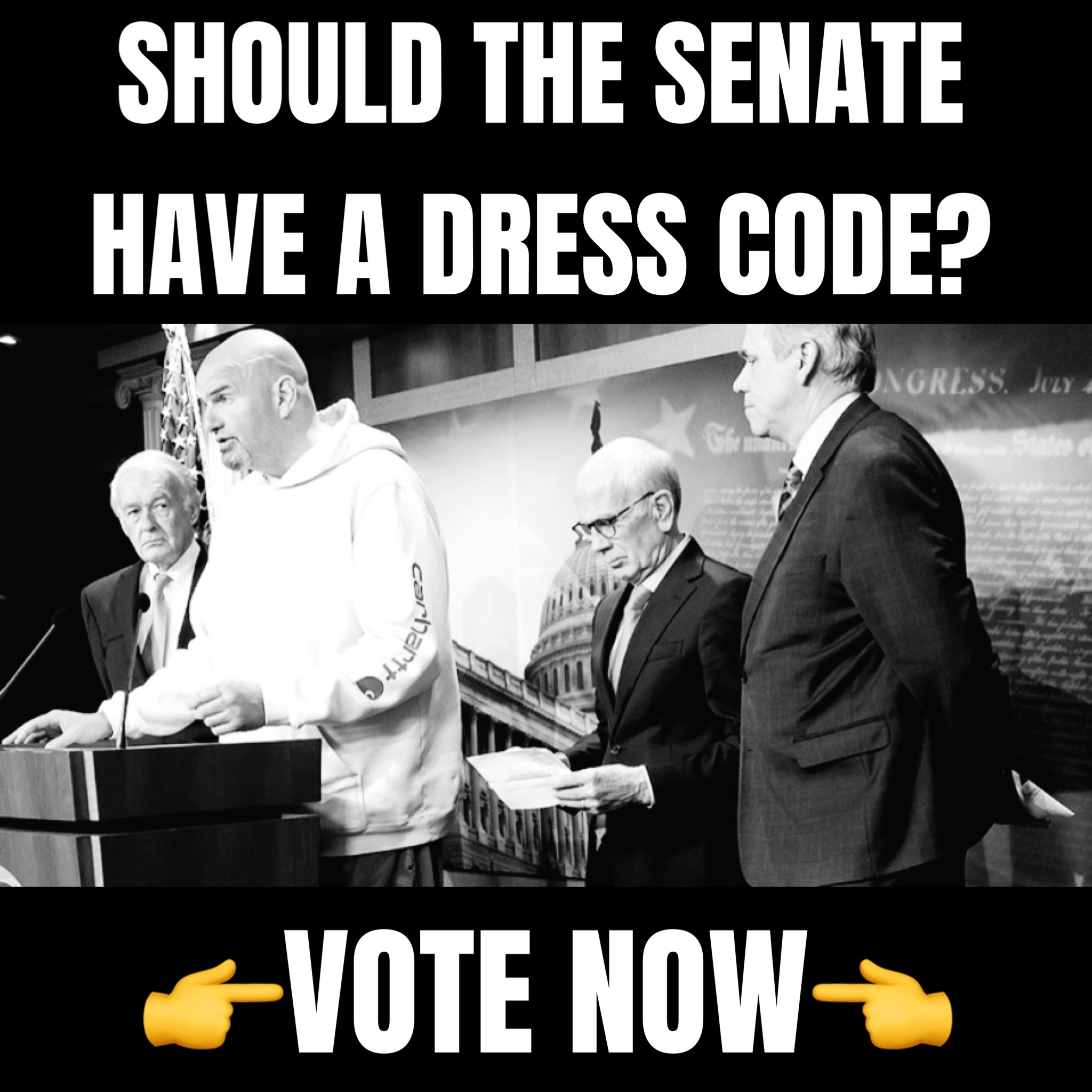 Trump pledged to appoint a special prosecutor to investigate Joe Biden. The move is a significant escalation in Trump's long-standing accusations against Biden and his family. Many GOP members have been pushing to further the investigation into the FBI and Biden's international bribery scheme that has come to a halt.
The 45th President and 2024 hopeful has used Truth Social to voice his opinion strenuously since his campaign launched. Trump called former Attorney General Bill Barr a "gutless pig" after Barr made claims that Trump was "toast." During an appearance on Fox News Sunday, Barr rejected Trump's premise that the indictment amounts to a "witch hunt," adding that the indictment is "very, very damning."
"I was shocked by the degree of sensitivity of these documents and how many there were, frankly," Barr said. "If even half of it is true, he's toast. I mean, it's a very detailed indictment, and it's very, very damning. This idea of presenting Trump as a victim here, a victim of a witch hunt, is ridiculous."

"Virtually everyone is saying that the Indictment is Election Interference & should not have been brought, except Bill Barr, a 'disgruntled former employee' & lazy Attorney General who was weak and totally ineffective," Trump wrote.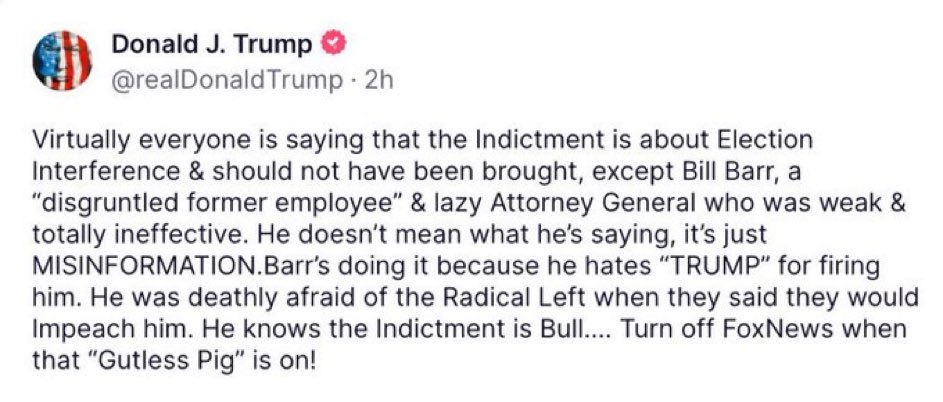 "He doesn't mean what he's saying, it's just MISINFORMATION. Barr's doing it because he hates "TRUMP" for firing him. He was deathly afraid of the Radical Left when they said they would Impeach him…He knows this indictment is Bull."