President Joe Biden was on a bike ride in/around Rehoboth Beach, Delaware, when someone flipped him the bird and asked where his training wheels are. The incident was caught on video and contains profanity, so there's your warning.
WATCH JOE BIDEN get heckled during a bike ride:
President Joe Biden also fell off his bike not too long ago and faced criticism for that because the bike was barely moving and he fell over – also taking place in Delaware.
Fox News had the story: "I'm good," he said appearing in good spirits when immediately asked if he was OK.
In a statement to Fox News a White House official said, "The President said, his foot got caught on the pedal while dismounting and he is fine. No medical attention is needed.
"The President looks forward to spending the rest of the day with his family," the official added.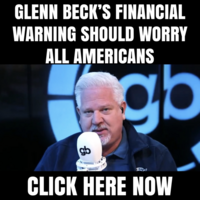 Following his tumble, Biden bent down to greet a child who was waiting along the president's route in Rehoboth Beach and asked him what it's like to run the country.
"Oh it's like any other job," Biden joked. "Some parts are hard."
The president then took a photo with the girl who said one day she planned to become president."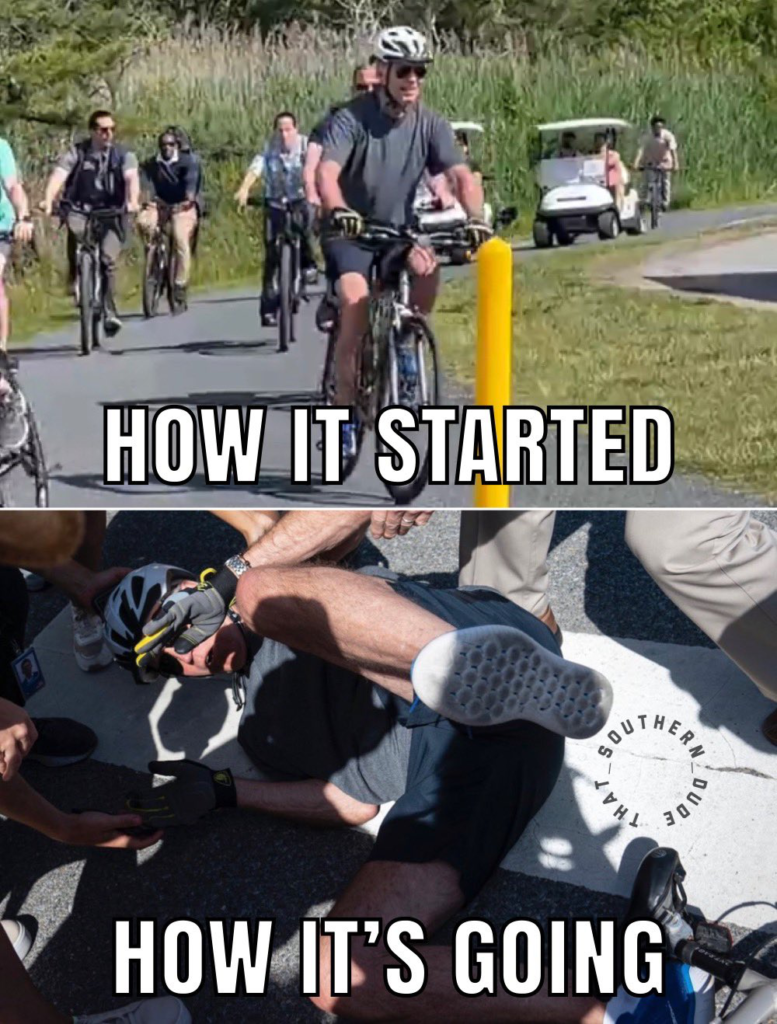 President Joe Biden also recently tripped UP the stairs while boarding Air Force One.
It is time to act on crime and gun violence and both parties should 'step up', President Joe Biden said, but then he ate his own words because he actually fell UP the stairs while boarding Air Force One to fly to California.
After two closely watched votes in California showed how voters were prioritizing rising crime, including the one in San Francisco, where the city's liberal district attorney was recalled and the other in Los Angeles where a tough-on-crime Republican finished ahead of a progressive Democrat in the race to be mayor, Biden has left.
Biden said that "the voters sent a clear message last night."
"Both parties have to step up and do something about crime as well as gun violence," he added.
"The first major bill we passed … we gave the states and localities billions of dollars, billions of dollars and then encouraged them to use it to hire police officers and reform the police department," he continued. "Very few have done it."
A challenge is what these results are giving to Biden's party, which has focused on criminal justice reform in recent years.
He had sent to Congress a request for $300 million in the budget to hire and train officers., Biden added.
"It's time they move. It's time states and the localities spend the money they have to deal with crime, as well as retrain police officers, as well as provide for more community policing," Biden said, as reported.
After 19 children and two teachers were shot dead at a school in Uvalde, Texas, this comes as the nation once again considers how to prevent mass shootings.
Putting the issue ahead of race relations, healthcare and the pandemic, in April, a University of Berkeley poll found that crime and lawlessness were now voters' number one concern in California.
In San Francisco, that meant the removal of DA Chesa Boudin, who was accused of being soft on crime.
In a defiant speech to supporters following news of the recall results, which saw more than 60 percent of San Franciscans vote to recall him, he said that "the right-wing billionaires outspent us three to one."
He then went on to say that citizens had been "exploited" by these groups and that they "took advantage an environment in which people are appropriately upset."
"They created an electoral dynamic where we were literally shadowboxing," said Boudin, who narrowly won office in November 2019 as part of a wave of woke prosecutors who vowed to seek alternatives to incarceration.
Local business groups were mainly the founders of the recall campaign against Boudin. The campaign accused the attorney of not doing enough to keep citizens safe, and introducing policies that allowed repeat offenders to commit crimes without fear of incarceration.
Boudin is expected to be replaced before an election is held, by Mayor London Breed, who was frequently critical of him and also is a tougher interim DA.
Photo: video screencap
This story syndicated with licensed permission from Frank at TrendingViews.com. Follow Frank on Facebook and Twitter