In a tweet on Monday, Democratic Chicago Mayor Lori Lightfoot appeared to issue a "call to arms" against the Supreme Court.
After the Supreme Court's draft judgment emerged on May 2, indicating the court's determination to overturn Roe v. Wade, Lightfoot stated that LGBTQ+ rights were in danger.
"To my LGBTQ+ friends, this same Supreme Court is on its way to us." This should serve as a rallying point." It was revealed on Twitter by Lightfoot. "We will not abandon our independence without a fight – a battle to victory!" the Mayor said in regard to her earlier statement.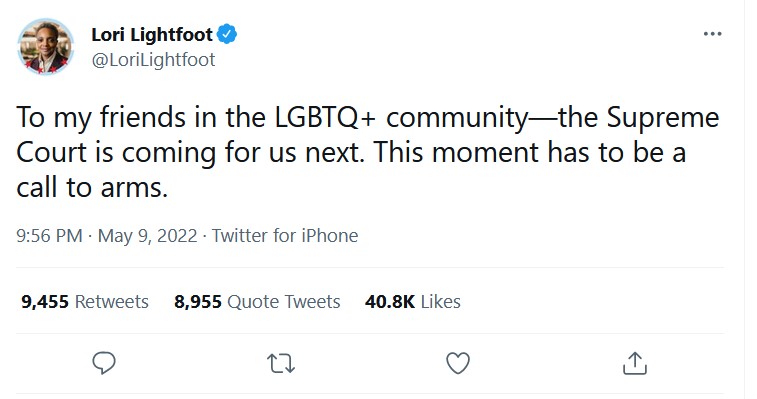 According to NPR, after learning that the Supreme Court could nullify Roe v. Wade, Democrats fear that the court will seek to overturn other landmark decisions, such as Obergefell v. Hodges in 2015, which formed legal precedent that federally shielded same-sex marriage, and Lawrence v. Texas in 2003, which successfully legalized sodomy by striking down laws prohibiting it, per report.
Upon hearing oral statements in the Dobbs v. Jackson Women's Health case late last year, the Supreme Court appears to be on the verge of overturning Roe v. Wade.
In the leaked draft judgment, Associate Justice Samuel Alito allegedly stated, "We hold that Roe & Casey must be overturned." "It's past time to pay attention to the Constitution and restore the subject of abortion to the people's elected representatives," she says.