Former World Series MVP and renowned MLB Player Curt Schilling took to Twitter to criticize WNBA star Britteny Griner for the actions that led to her arrest in Russia just ten months ago and resulted in an abysmal prisoner swap just last week.
During is time in the MLB, Schilling played with five different teams including the Phillies and the Boston Red Sox. Schilling was a notorious powerhouse in the MLB and was well known in the professional baseball community.
Despite being a professional baseball player Schilling rarely weighed in on political issues, until his retirement in 2007. Since moving on from the sport, Schilling has been an outstanding voice in the athletic community for his conservative values and has not held back on issues when he speaks about them. Especially in this case with Brittany Griner…
It's clear that Schilling completely disregards the woke mob because of not only his opinions but just how vocal he is about them. His most recent tweet about Brittany Griner is no exception. Checkout a quote of what he said below:
"I know this may seem like a stretch. But something like 300 million people understand "OBEY THE F*CKING LAW", why is that such a challenge? And why on earth should she NOT pay the penalty for breaking another country's laws?"
The comments that Schilling made were in response to notorious outspoken liberal athlete Lebron James back in July 12th. Lebron at the time was facing serious backlash for words that he had said about America in the midst of Griner being detained early on in Russia. Check out what Lebron James said in his tweet below:
"My comments on "The Shop" regarding Brittney Griner wasn't knocking our beautiful country. I was simply saying how she's probably feeling emotionally along with so many other emotions, thoughts, etc inside that cage she's been in for over 100+ days! Long story short

#BringHerHome"
Since Schilling was a professional athlete, it's clear that he has a perspective that many Americans won't have. Some commenters agreed with what Schilling had to say claiming that if Griner wanted to "play stupid games and win stupid prizes." Check out a picture of the Twitter exchange below: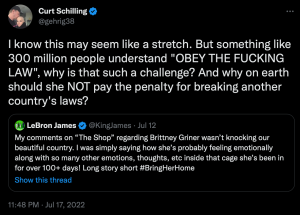 Schilling in his tweets references Brittany Griner's drug use in Russia which is what she was originally detained for. Griner was ultimately sentenced to almost ten years in Russian prison for drug use before she was released in a prisoner swap for the infamous "Merchant of Death" Viktor Bout who is an arms dealer with Russian ties
Interestingly enough, Viktor Bout even said something similar about drug use in his first interview after being released in the prisoner exchange late last week which you can watch by
CLICKING HERE.