Fox Corporation's stock experienced a sharp decline on Monday, dropping as much as 5 percent and resulting in a loss of nearly a billion dollars in market value. The decline followed the announcement that Fox News had severed ties with primetime host Tucker Carlson.
According to Business Insider, although the company's shares showed a slight recovery later in the day, trading at $29.61 and down almost 4 percent by 12:15 pm Eastern Time, they finished at $29.91 by the close of the market.
The decision to part ways with Carlson came less than a week after Fox Corporation and Dominion Voting Systems had reached a $787 million settlement, following the revelation of private text messages from Fox hosts, including Carlson, criticizing Fox News management. As one of the network's most popular hosts, known for consistently high ratings on his cable news show, Carlson's departure has caused shock and surprise among viewers and industry observers.
Former President Donald Trump, who had frequently appeared on Carlson's show, expressed his shock and disappointment at the news during an interview with Greg Kelly on Newsmax, stating that Carlson was a "very good person" and "very talented." Trump also posted on Truth Social, a social media platform he had recently launched, lamenting Carlson's departure as a "big blow to cable news and to America," describing him as "insightful, interesting, and ratings gold."
Fox News has not provided any explanation for the sudden departure of Carlson, and the network was still airing promotional segments for his show on Monday morning after the announcement was made. However, it was revealed that the decision to remove Carlson from Fox News' lineup came directly from Rupert Murdoch, Chairman of Fox Corp., further adding to the intrigue surrounding the unexpected departure of the top-rated host.
Tucker Carlson's departure led to a flood of supportive and encouraging messages on Twitter.
Good for Tucker. Trust me, he doesn't need them. https://t.co/NjFqqsIV4q

— Megyn Kelly (@megynkelly) April 24, 2023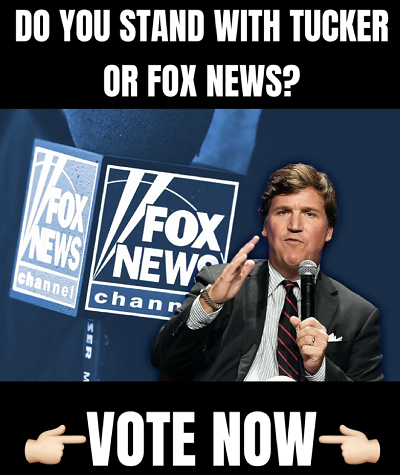 I whole lot of very jealous people are celebrating the Tucker news today. The problem for those people though is Tucker is going to go on to be a big success at whatever he does next.

And you'll still be boring and unsuccessful.

— Jesse Kelly (@JesseKellyDC) April 24, 2023
Tucker Carlson will be fine. Fox News will not be fine. That's the difference. Fox needed Tucker more than he needed Fox.

— Ian Miles Cheong (@stillgray) April 24, 2023
.@glennbeck invites @TuckerCarlson to join The Blaze in the wake of departure from Fox News:

"We would love to have you here, you won't miss a beat, and together the two of us will tear it up." pic.twitter.com/7IfP7HQaFA

— TheBlaze (@theblaze) April 24, 2023
Could we end up with a Glenn Beck / Tucker Carlson & Company network?

— Sheri – FFT👠 (@FemalesForTrump) April 24, 2023
The best decision I ever made was leaving Fox. Good for you, @TuckerCarlson. You're free & uncensored! pic.twitter.com/ZsUwnGAZ7M

— Kari Lake (@KariLake) April 24, 2023
Wherever Tucker Carlson goes, America will follow!

Thank you for being one of the greatest and most powerful voices in the conservative movement.

Can't wait to see what's next!

— Lauren Boebert (@laurenboebert) April 24, 2023
There was even talk of Tucker… running for president?
What are the chances Tucker runs for president👀

— Pedro L. Gonzalez (@emeriticus) April 24, 2023
Only if the "Tucker 2024" signs have not been printed yet. Keep an eye out for speeches in the Granite State. https://t.co/nPE78kMA7f

— Hugh Hewitt (@hughhewitt) April 24, 2023
Tucker Carlson 2024? Don't count anything out in this wild election cycle.