Things got a little testy in an awkward interview between Sen. Josh Hawley and journalist Mark Maxwell.
Maxwell, who went on a rant on Twitter a few nights ago bashing fans of Elon Musk, tweeted, "Does anyone still think Elon buying this site and firing all the experts was a good idea? It's been awhile since I've seen any of his bootlickers brag on how efficient the site is now that Sir Galaxy Brain is in charge."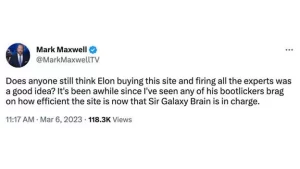 "Bootlicker" is a derogatory slang word used to describe someone who is overly submissive or servile, especially towards someone in a position of authority or power. The term implies that the person is willing to do anything to gain favor or approval from the person in power, even if it means compromising their own beliefs or values.
He then later tweeted, "never interrupt a worshipper during their daily prayers to Lord Elon."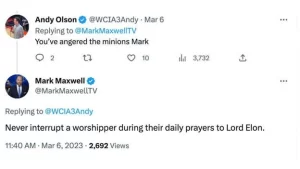 Then during a later interview, Hawley asked Maxwell about his comments and his state of mind:
"You also said that you didn't necessarily do any of this sober?" Hawley asked.
"I never said I was sober," Maxwell joked.
"I hope you do our interview sober," said Hawley.
"I try to… I try to," Maxwell said.
Hawley jabbed then jabbed, "Well, when journalists or so-called journalists who refer to people they don't like as bootlickers on a public platform when… they attack folks and then say they don't necessarily do stuff sober, it does tend to get my attention. I mean we give you a lot of access. I just want to make sure that you're actually sober and taking this seriously good Lord in Heaven."
"I'm happy to do a blood alcohol test. I have had no alcohol," said Maxwell, who couldn't finish the interview fast enough.
WATCH:
LOL: Senator @HawleyMO confronts left wing reporter who had an VERY public meltdown about @elonmusk.

"You also said that you didn't necessarily do any of this sober…I hope you do our interview sober!" pic.twitter.com/jOwyFbtAma

— Townhall.com (@townhallcom) March 17, 2023