Over the weekend during a two-hour Twitter Spaces audio chat, Twitter CEO Elon Musk opened up about assassination risk he is experiencing at the moment.
"Frankly the risk of something bad happening to me, or even literally being shot, is quite significant," he said during the audio session.
"It's not that hard to kill somebody if you wanted to, so hopefully they don't, and fate smiles upon the situation with me and it does not happen …" he continued. "There's definitely some risk there."
Musk went on to say that "at the end of the day, we just want to have a future where we're not oppressed."
"[Where] our speech is not suppressed, and we can say what we want to say without fear of reprisals," he said.
"As long as you're not really causing harm to somebody else, then you should be allowed to say what you want."
LISTEN HERE: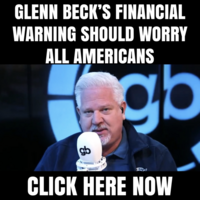 Elon Musk Says His Assassination Risk is "Quite Significant": "Frankly the risk of something bad happening to me or literally being shot is quite significant. I am definitely not going to be doing any open-air car parades."
Source: https://t.co/thJ94gap7b pic.twitter.com/P4vQ2gTQZz

— Wittgenstein (@backtolife_2023) December 4, 2022
Check out my reaction below:
Elon Musk is in the crosshairs of some VERY powerful people. People who will destroy your life and family.

Yet he exposed the truth anyways without batting an eye. This is the courage I wish our elected leaders had.

— Collin Rugg (@CollinRugg) December 4, 2022
Follow me on Twitter @CollinRugg!
Check out what the New York Post reported:
Musk also ended Twitter's policy against Covid-19 misinformation, and dismantled the company's trust and safety teams amid mass lay-offs.
Much of Musk's conversation on Twitter Spaces, which took place on Saturday night local time, was devoted to the so-called 'Twitter Files', a selection of internal documents released by journalist Matt Taibbi on Friday.
Taibbi's thread included files that showed Joe Biden's team instructing Twitter employees to remove specific political content in October 2020, just weeks before he was elected US President.
Elon Musk vows 'more smoking guns' to be revealed by Twitter after Hunter Biden bombshell
Screenshots of emails revealed that Twitter employees deliberately suspended, banned or censored users who commented on the controversy surrounding the contents of Mr Biden's son Hunter's laptop.
The fallout from the Twitter Files drop has been explosive to say the least.
On Truth Social over the weekend, President Donald J. Trump reacted to the shocking files that proved collusion between the Democrats and Big tech to silence conservatives and help Joe Biden in the 2020 election.
"Wow! That's a really big story about Twitter and various forms of government Fraud including, specifically, Election Fraud," Trump said. "The same level of Fraud took place with the other Big Tech companies, if not even worse (if that's possible?). We are living in a VERY CORRUPT COUNTRY &, AS THEY ARE SAYING ALL OVER THE INTERNET, "NOTHING WILL BE DONE ABOUT IT BECAUSE THE JUSTICE DEPARTMENT & FBI ARE TOTALLY CORRUPT." But they'll keep investigating "boxes" that were legally & openly taken from the W.H," he concluded.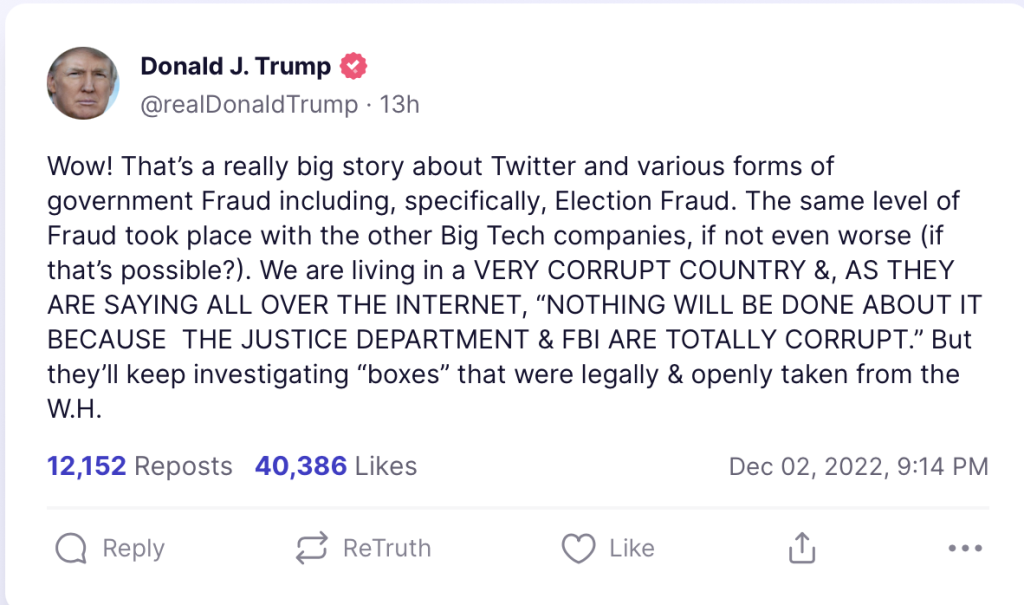 Follow me on Twitter @CollinRugg!