MSNBC host Stephanie Ruhle, appearing on MSNBC's Hallie Jackson Reports to discuss the current state of the economy, desperately tried to cheer the current state of the economy, particularly the better than expected recent jobs report, while ignoring that many economists predict that a recession is imminent.
Ruhle kicked things off by acting like the June jobs report meant that businesses aren't going to lay people off as a way of dealing with the Federal Reserve's rate hikes, saying:
"The real positive to take away is when you start to raise rates, the fear is businesses are going to lay people off. They can't grow. Well, that's not the case. Businesses are hiring, hiring, and hiring!"
Jackson then prodded Ruhle to cheer the jobs report even more and make cheery predictions about the Biden economy, saying:
What's a piece of this, Steph, as this story and these jobs numbers been covered throughout the day today, that you think is missing from the broader conversation? Like what's the angle that we're not talking about that we should be?
Ruhle was more than willing to comply, jumping in to highlight the good news and indicate that even gas prices are good news. In her words:
Well, the fact that this is good news, right? It's easy to say, look at gas prices, they're so high. But guess what? Look closer at gas prices.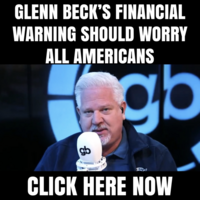 Continuing after a brief interruption from Jackson, Ruhle then went on to claim that there's even more good news in the economy and place the blame for all the current problems on Covid (apparently she missed the new "Putin price hike" talking point), saying:
Gas prices are actually going down. And to simply say, "What is the administration doing? This is a huge problem!"
You have to remember, when you look at the economy, all of this was caused by COVID. And yes, we are getting through COVID, but you've still got supply chain issues because of China. Nobody predicted the war and that's caused food prices to go up, lumber prices to go up, gas prices to go up.
The good news that I want everyone to take away is, yes, this is a complicated time. Things are expensive, but all of this is part of a broader theme, which is economic recovery. And I would want to remind people of where we were two years ago, potentially facing economic disaster.
So now higher prices are a "good thing". Got it, Steph.
Further, while she paints fears of an economic disaster as no longer being relevant, those who might be a bit more knowledgeable about the situation aren't so cheery about the state of the economy or what's coming. Former IMF Chief Economist Ken Rogoff, for example, recently said that the Fed will either "blink" and let inflation continue to run rampant or will plunge the US into a recession in an attempt to deal with inflation.
By: TheAmericanTribune.com, editor of TheAmericanTribune.com. Follow me on Facebook and Subscribe to My Email List