Following the release of the book "Romney: A Reckoning," written by McKay Coppins, former President Donald J. Trump took to his social media platform, Truth Social, to share his thoughts and reactions. The book, which delves into Mitt Romney's political journey and his views on various colleagues stirred attention within Republican circles.
In a detailed post, Trump labeled Mitt Romney as a "total loser," expressing strong criticism towards the senator's new biography. He described the book on Romney as "boring, horrible, and totally predictable," alluding to his disagreements with the content and the portrayal of various events.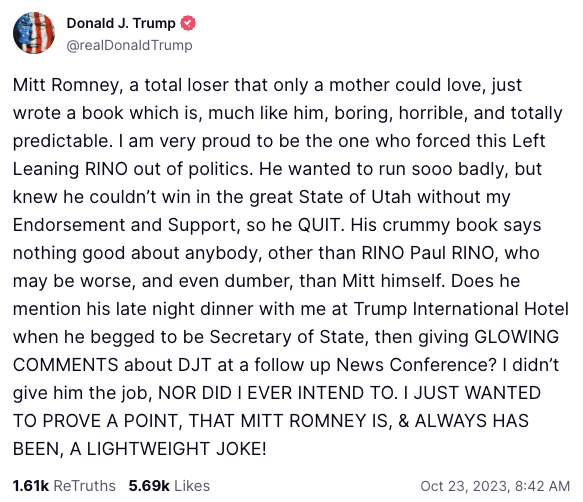 One of the significant points Trump raised was a past dinner at Trump International Hotel. He recounted that during this event, Romney had shown keen interest in the Secretary of State position. However, Trump was quick to clarify that he never had any intention of offering the role to Romney. He suggested that the meeting's primary purpose was to underscore a point about Romney's character and political ambitions.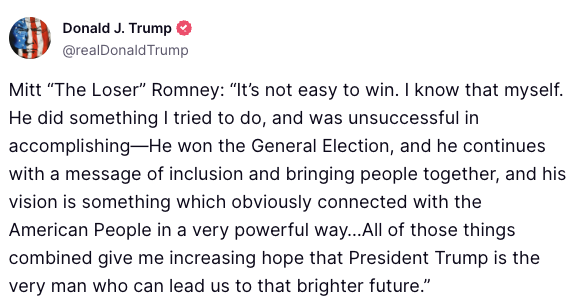 In another post, Trump shifted the narrative by spotlighting remarks made by Romney himself. The Utah senator had previously acknowledged the inherent challenges of winning a presidential election, going on to commend Trump for his successful General Election campaign.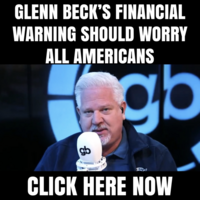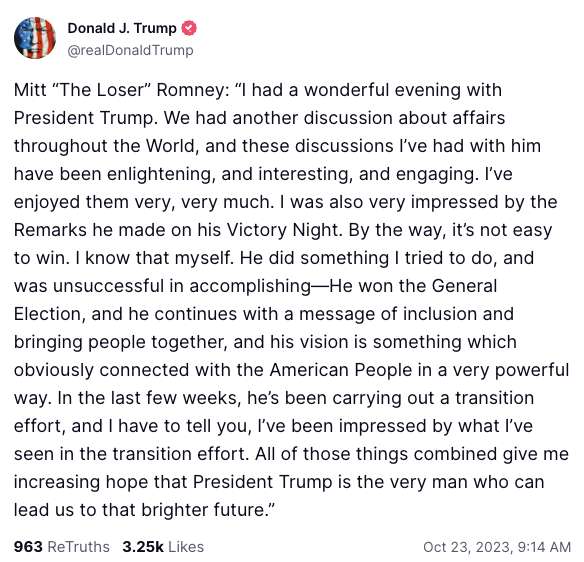 Romney's comments at the time painted a picture of his interactions with Trump, which he described as "enlightening" and "engaging." He also expressed a sense of optimism about Trump's leadership capabilities and the transition efforts that followed his election victory.
The relationship between Romney and Trump has been a topic of interest for many political observers. Romney's relationship with Trump dates back decades. In 1995, while Romney was working at Bain Capital, he spent several days at Trump's Mar-a-Lago mansion in Florida.
According to the book, the experience was described as "deeply weird," with Romney being greeted by dozens of Trump's service staff in white linen uniforms, creating an atmosphere reminiscent of a royal reception.
Years later, the two ran into each other at a New England Patriots football game, where they were both guests in owner Bob Kraft's suite. During this encounter, Trump allegedly made remarks about his then-girlfriend, Melania, suggesting that many men in New York desired her company.
During Romney's 2012 presidential campaign, he accepted an endorsement from Trump. Despite their differences, Romney's personal journal entries from that time reveal a fondness for Trump's candid personality. Romney wrote that Trump was genuine, saying things as he saw them without any pretense. He appreciated Trump's humor and found his company enjoyable.
After Trump's election as president, he reportedly offered Romney an ambassadorship to Russia, which Romney declined. This offer came after Romney was considered for the position of Secretary of State. In the end, Romney and Trump's relationship has been multifaceted, marked by moments of both camaraderie and contention.