In a series of fiery posts on Truth Social, former President Donald J. Trump has thrown down the gauntlet, challenging media mogul Rupert Murdoch, President Joe Biden, and the leadership of the Wall Street Journal to mental acuity tests.
This comes in response to what Trump perceives as a "phony and probably rigged" poll from the Wall Street Journal, which he believes was designed to "soften the mental incompetence blow" surrounding President Biden.
In his post, Trump expressed his incredulity at the sudden interest in his mental state, reminding his followers that he had previously agreed to and "ACED" a mental acuity test. He insinuated that the "Globalists at Fox & the WSJ" are resorting to such tactics due to their inability to promote their preferred candidates successfully. "Well, I hereby challenge Rupert Murdoch & Sons, Biden, WSJ heads, to acuity tests!" Trump declared.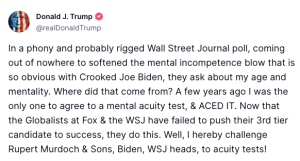 But the former President didn't stop there. In a subsequent post, he lambasted the current state of the nation, describing the U.S. as a "laughing stock" due to the influx of illegal migrants. He went on to label Joe Biden as a "clown" and questioned who would vote for him, given his perceived inability to string "two sentences together." Trump painted a bleak picture of the country, touching on issues ranging from inflation and crime to the state of the military and airports.

In another post, Trump took aim at Fox News and the Wall Street Journal, wondering aloud why they aren't showcasing polls that favor him over other potential candidates, including Ron DeSanctimonious. He also took jabs at "Aida" Hutchinson and Chris Christie, dismissing them as non-contenders in the political arena.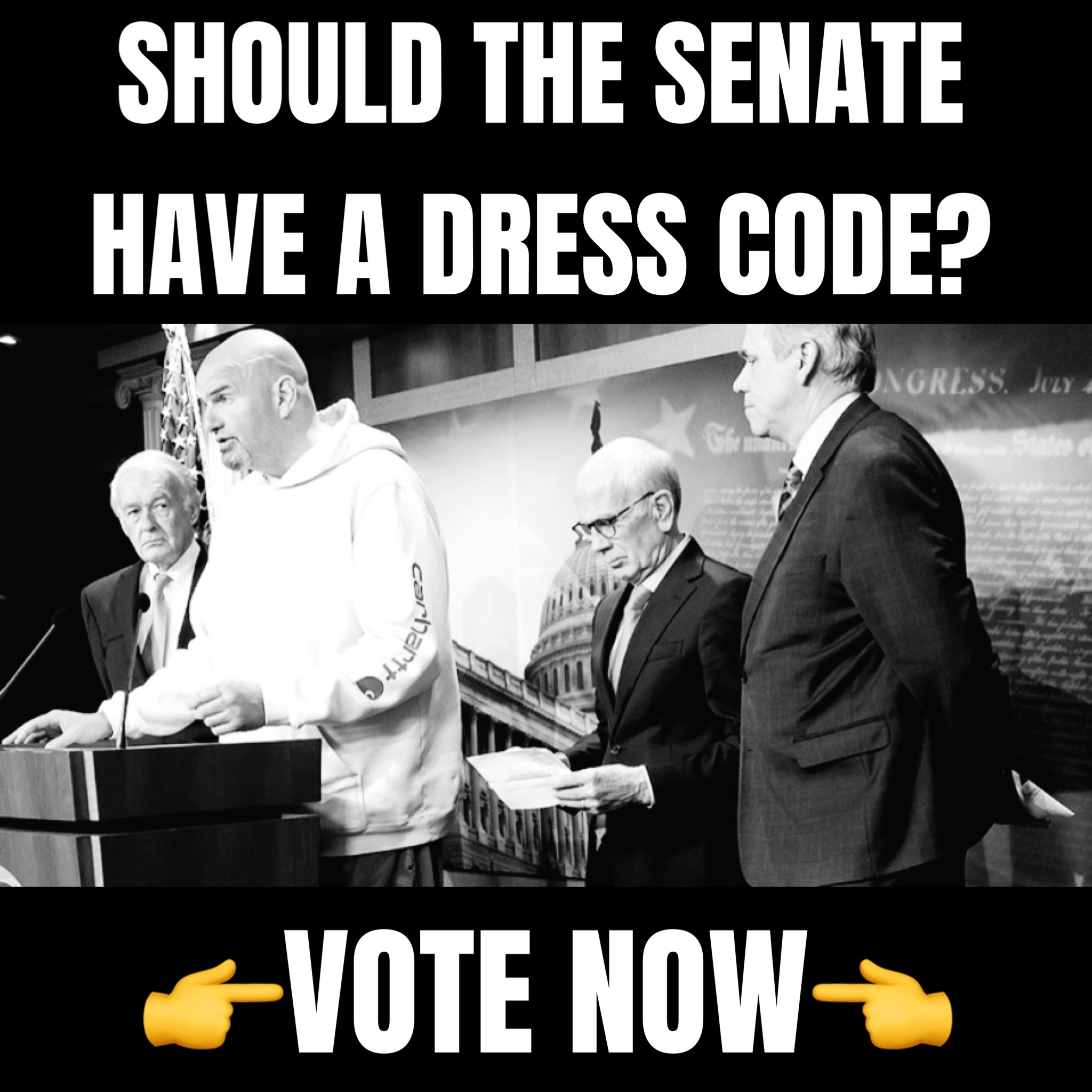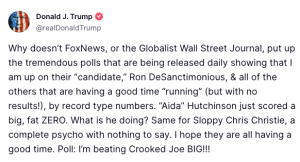 Last week CNN's top political analyst, David Chalian, was forced to acknowledge that Trump has been gaining strength in the race for the 2024 Republican presidential nomination. "Our brand new numbers in this poll conducted by SSRS among Republican and Republican-leaning voters show that you have Donald Trump at 52 percent, majority support," said Chalian. "Ron DeSantis is next in line here, way back at 18 percent. Everyone else is in single digits. This is a one-man race."
He highlighted the significant movement in Trump's favor since June. "Donald Trump is getting stronger as a front-runner. He is up five percentage points compared to where he was in June," he noted.
In contrast, Florida Governor Ron DeSantis, who has been considered a strong contender for the 2024 Republican nomination, appears to be losing ground. "Look at Ron DeSantis. He is slipping. He's down eight percentage points from where he was in June," Chalian said.
WATCH:

With Trump's numbers on the rise and DeSantis slipping, the 2024 Republican nomination increasingly looks like Trump's to lose. InteractivePolls had also posted a national poll that showed Trump is in the lead in the Republican primary, in a head-to-head with Joe Biden, and in a three-way race with Biden.
The poll covered public attitudes by 1,000 registered voters from August 25th to 26th via landlines and an online panel of voters with a margin of error of 3 percentage points.
In a two-way general election, Trump got 46 percent of the vote compared to Biden's 44 percent. In a three-way general election, Trump got 44 percent to Biden's 39 percent, while Cornell West, the likely Green Party candidate, garnering 4 percent.