New York  Supreme Court Judge Arthur F. Engoron has fined former President Donald Trump after he said Trump "blatantly" violated a 'gag order' imposed by the Judge on October 13th. The judge cited a social media post to Trump's Truth Social platform that he had ordered to be taken down referencing the Judge's Clerk Allison Greenfield.
As reported by The Guardian, Engoron was incensed with Trump and threatened him with jail time asking, "this blatant violation of the gag order would not result in serious sanctions, including financial sanctions and/or possibly imprisoning him."
The original post, shared by Trump on his Truth Social profile came from X Account Judicial Protest, which shared an image of Greenfield with Senate Majority Leader Chuck Schumer and asked "Why is Judge Engoron's Principal Law Clerk, Allison R. Greenfield, palling around with Chuck Schumer?"
Why is Judge Engoron's Principal Law Clerk, Allison R. Greenfield, palling around with Chuck Schumer? 👇 https://t.co/HZvyB8kR28#Trump #Trump2024 #MarALago #MAGA #MakeAmericaGreatAgain @EricTrump @DonaldJTrumpJr @KTDonLeavme @DC_Draino @JackPosobiec pic.twitter.com/o0snIqfxmd

— Judicial Protest (@JudicialProtest) September 27, 2023
The post to Truth Social and subsequent 'gag order' was previously reported by Trending Politics. Engoron had told the Trump legal team on the second day of the fraud trial, "Consider this statement a gag order on all parties with respect to posting or publicly speaking about any member of my staff."
Politico legal reporter Erica Orden reported that Engoron added,
"Personal attacks on members of my court staff are unacceptable, inappropriate and I will not tolerate them in any circumstances," he continued "Failure to abide by this order will result in serious sanctions."
Trump added his commentary in the post writing, "Schumer's girlfriend, Alison R. Greenfield, is running this case against me. How disgraceful! This case should be dismissed immediately,"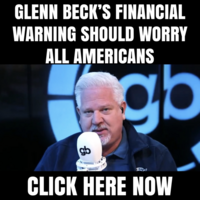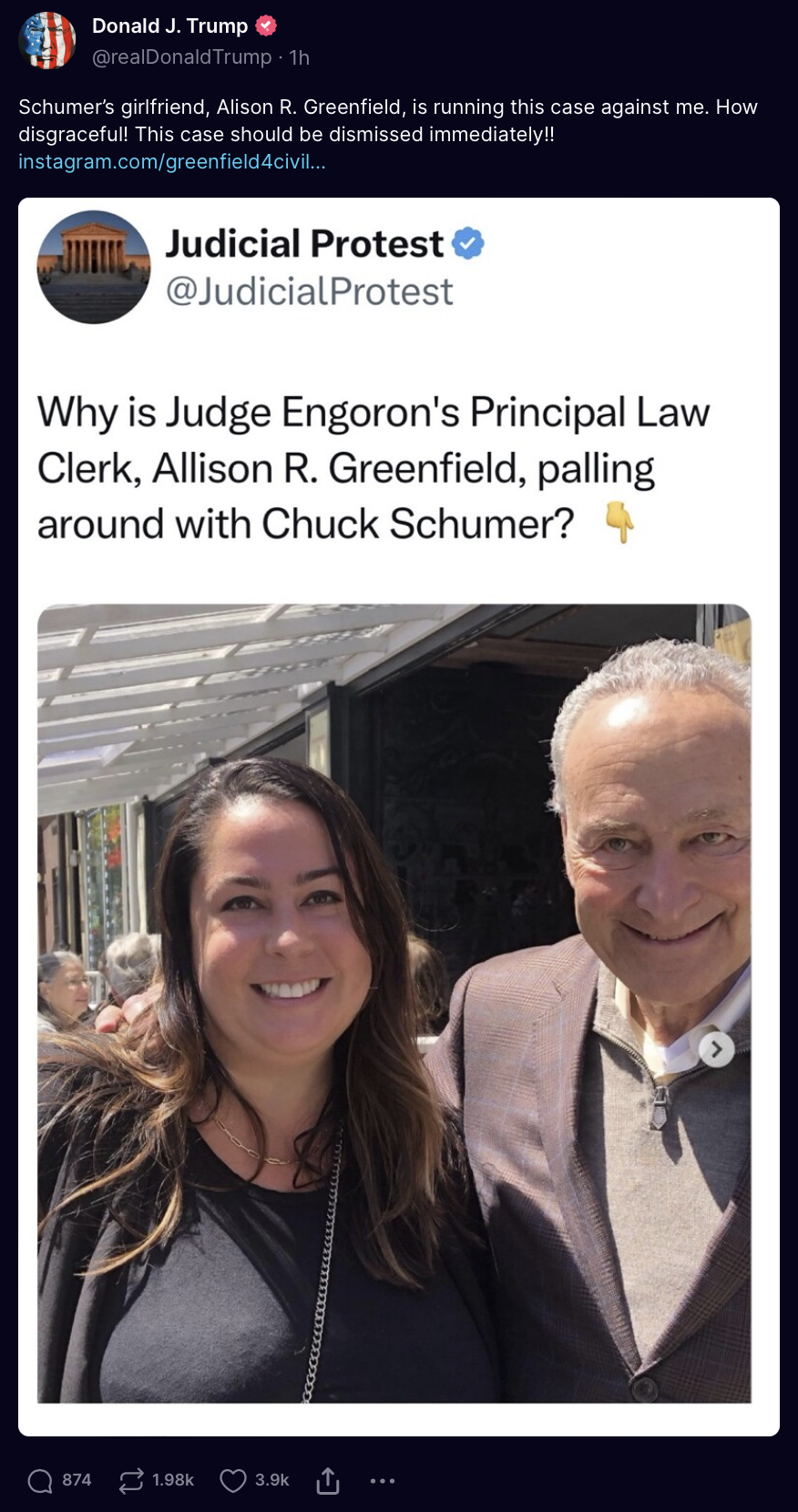 As he departed the court that day, Trump told reporters "You saw what was just put out about Schumer and the principal clerk. That is disgraceful," adding that the trial is "rigged" and "fraudulent."
The Guardian reported that Trump attorney Christopher Kise offered an apology to Engoron for the violation, blaming the failure to remove the post on the Trump "campaign machinery."
"The Truth Social post was taken down when the court asked," Kise said according to Newsmax. "Truth Social was taken down and Trump never made any more comments about court staff, but it appears no one took it down on the campaign website. It is unfortunate, and I apologize on behalf of my client."
"There was no intention to evade or circumvent or ignore the order," Kise told the Judge adding that the post by that time had been removed. Engoron responded to Kise that he would take this explanation "under advisement," but added that Trump is "still responsible for the large machine."
"I ordered him to remove the post immediately, and he said he did take it down," Engoron said according to The Messenger.
"Despite this order, last night I learned the offending post was never removed from the DonaldJTrump.com and in fact, has been on the website for the past 17 days. This is a blatant violation of the gag order. I made it clear [that] failure to comply will result in serious sanctions."
"Incendiary untruths can and have led to serious physical harm. I will now allow the defendant to explain why this should not end up with serious sanctions or I could possibly imprison him," Engoron continued.
The Guardian later reported that Trump was fined a total of $5,000 for the infraction, he has not ruled on holding the former President in contempt of court but has reserved the right to do so in the future.