Former President Donald Trump seemed to change course early this morning as he announced that he predicts a Republican House speaker will be selected today.
Trump has been vocal about his support for Rep. Kevin McCarthy for speaker however his support didn't seem to do much considering McCarthy has lost 6 rounds of votes.
Although the former president doubled down on his support for McCarthy earlier this week, he seems to be backpedaling.
"Very good things are happening behind the scenes for the Republican Party," Trump said on Wednesday in a Truth Social post. "Intense but Smart negotiations between GREAT and PATRIOTIC people are ongoing. They all love our Country, and want something to go forward, ASAP. This "event" will end up making the Republican Party STRONGER and more UNITED than ever before. OUR NATION IS AT STAKE. Stay tuned and, MAKE AMERICA GREAT AGAIN!"
He followed up this morning by indicating that he expected progress to be made "today."
"I actually think that a big Republican VICTORY today, after going through numerous Roll Calls that failed to produce a Speaker of the House, has made the position & process of getting to be Speaker BIGGER & MORE IMPORTANT than if it were done in the more traditional way, much like me again becoming President after having won big in 2016, gotten many Millions of MORE VOTES in 2020 but "supposedly" not winning (BIG LIE!), & then winning again in 2024. It will be BIGGER than the traditional way!"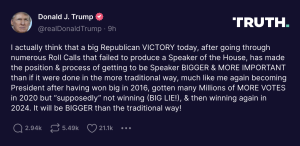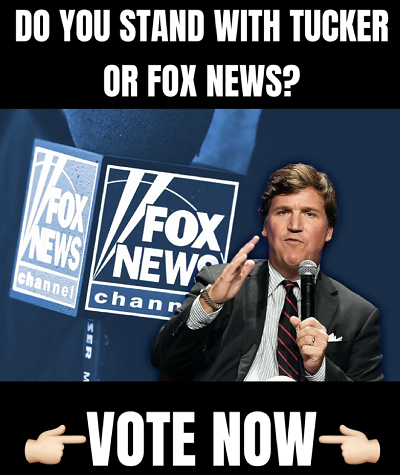 The ongoing situation in the House is getting so bad that one member is threatening to resign if McCarthy becomes House Speaker.
"After six votes in two days, House Republicans still do not have a consensus candidate for speaker, and 20 GOP holdouts remain opposed to Rep.-elect Kevin McCarthy, R-Calif., for the job. One of the group, Dan Bishop of North Carolina, went so far as to say he would resign from Congress if they are unsuccessful in their effort to bring about institutional change in the House – which they do not trust McCarthy to deliver," Fox News reported.
"Such is the opposition the majority of the Republican conference faces as they struggle to find 218 votes for the next House Speaker. McCarthy can only afford to lose four votes in his quest for the speaker's gavel and not even the urging of former President Donald Trump for Republicans to rally behind him was enough to change minds. Until a speaker is elected, House Republicans cannot conduct business – they are not even sworn in – and their campaign promises to serve as a check and balance on the Biden administration on day one hang in limbo. The last time a speaker vote failed was in 1923," the outlet continued.
"We're going to either see improvement up here the same way we made remarkable improvements in North Carolina in the state legislature, or I'm out," Bishop said to Roll Call as he blasted McCarthy for repeating the same act over and over in Congress.
Follow me on Twitter @CollinRugg!