John Fetterman, the junior U.S. Senator from Pennsylvania for whom the Senate's dress code was changed so his hoodie sweatshirts could be accommodated, blamed House Republicans for fixating on his attire rather than governing, telling a journalist in a bizarre rant that they should "go hump a different leg."
Sen. Fetterman (D-PA) told MSNBC's Chris Hayes on Monday night that he is "proud of his colleagues" in the Senate, saying the move to allow more casual clothing on the Senate floor shows they are "really about governance." The change sparked a firestorm of criticism after it was revealed that Senate Majority Leader Chuck Schumer (D-NY) relaxed the body's informal dress code to accommodate Fetterman, who has become widely known for sporting oversized hoodies rather than the traditional suit and tie ensemble for male senators.
The criticism, Fetterman claimed, is just a backdrop to the lack of action on the House side where Republicans continue to hold House Majority Leader Kevin McCarthy to the fire over a government funding resolution they say is insufficiently conservative.
"On the House, the whatever they call themselves Team America or whatever they call themselves, bring your vote otherwise they need to go hump a different leg," said the senator as he sported a new bushy mustache.
WATCH:

Even the station's chyron, which claimed that Republicans are "freak[ing] out" over the new dress code, poked fun at critics who say Sen. Fetterman should dress for success if he wants to remain a member of the world's most exclusive club.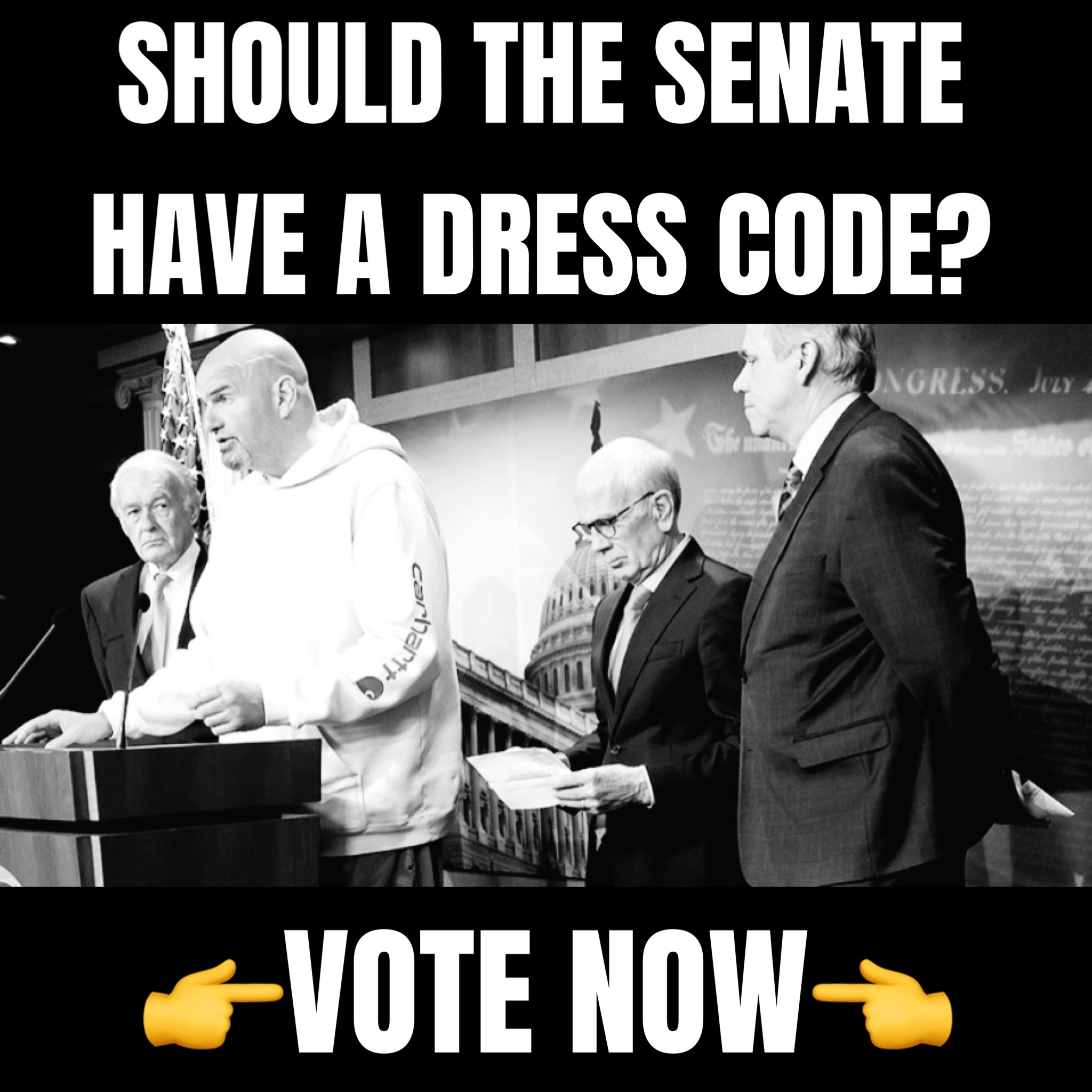 Axios scooped news about the change on Sunday after a Senate official told the outlet that changes to dress code enforcement would go into effect next week. It's unclear if Sen. Fetterman has been chided, fined, or otherwise disciplined for previous infractions.
"Senators are able to choose what they wear on the Senate floor. I will continue to wear a suit," Schumer said in a statement to Axios.
Under the new rules, senators can now stand at the back of the chamber and cast their vote with a thumbs-up or thumbs-down motion while keeping one foot in the cloakroom. The change is ostensibly made to accommodate members who are fresh off a plane or a workout at the gym. Senate staff will still be required to abide by the old rules, which call for a coat and tie for men.