The legendary Gwen Stefani from the band No Doubt is back folks, but the woke mob is trying to go after her for some appropriation nonsense – but it's a good thing they failed miserably because everyone loves Stefani and knows the 'woke mob' is a joke.
Here's the video and it's a good one:
Gwen Stefani is in a new music video with Jamaican singer Sean Paul and it's called "Light My Fire" and a handful of woke communists tried saying Gwen was appropriating black culture. Except, she's literally in the video with a BLACK SINGER and it's his video and his director likely told everyone what to do in the collaboration that came out pretty darn cool.
Stefani has her hair in dreadlocks and she's covered in black, green, and yellow dress that reminds folks of the Jamaican flag – showing her respect and love for the culture, not appropriating it like the wokies say. But of course, one person had to just say something really stupid: "Y'all. Mother Appropriation is BACK!!!! Where my 2000s No Doubt/Gwen hive at!!!?? ITS TIME!!!" It was such a stupid comment that we won't even link to the Twitter post, but we'll show you the screenshot instead: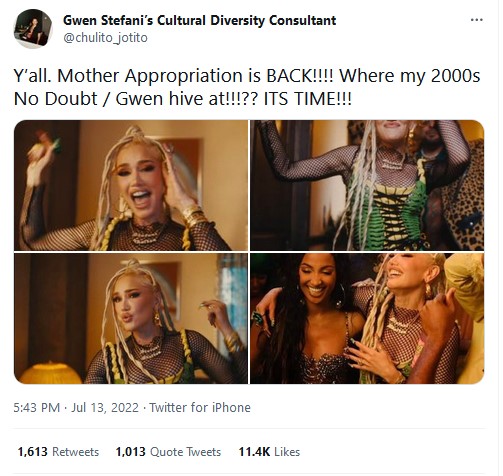 And as usual, the supportive people came out to show love to Gwen Stefani and Sean Paul as they collaborated on a fun song!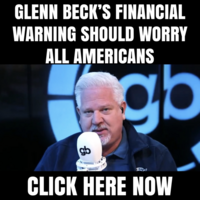 Frank B: Awesome to see Gwen in action!!!!! Great work, folks!!!
Lawrence Chavez: Gwen is an icon that loves and respects other cultures. This is definitely right down her alley and I'm tired of the media saying this is cultural appropriation it's simply showing that she is very loving of other cultures and always has been. I love her. Her and Sean Paul together.. two icons in music. Iconic combination here for sure

the song and video are





Tina Cordova: It's been a long time listening to Gwen Stefani.I followed her her career when she was with the group No Doubt.She's amazing Artist very original and she has style lots of class.I saw the video Light my fire

her duet with my favorite Sean Paul was awesome

Nothing wrong at all enjoy every bit of the video.





The two should make more videos together
Gwen Stefani herself: we had so much fun shooting this video !! so happy it's finally out

gx
Ruby C: Gwen, thank you for making this song, Absolutley love the crew you have with you in the video. It is spot in what I was waiting for and brought me back to the 90's!
19 is the Number: This is slam HIT! So proud of you both! Good to see you back Sean!!!! Gwen girl you look incredible. You are making 52 look like 22!!!!!!
Barrington Facey: Sean Paul is true dancehall legend at the highest level and knows how to deliver every time..Gwen Stefani delivered some great vocal energy on this track solidifying the fact that she is a great Reggae/Dancehall fan…Shensea the latest dancehall phenomenon who is a very talented and versatile artist made her contribution seem so naturally effortless as she has such a natural flow when it comes to spitting lyrics on these types of riddim..This one is definitely a banger for the summer.
K: Love this! This is cultural appreciation NOT appropriation. Love it.
SirManDudeGuy1: To the people saying she is appropriating… She's not. She has always been an appreciate-r of different cultures. From ska to Japanese to country. She doesn't go out there and make fun of different cultures.
Shev: This song is so addicting!!!! It's just so good! Sean Paul always find a a way to keep the Jamaican culture alive! Love that about him. Gwen adds a nice spunk/airy vibe and meshes well with the sound. And of course Shenseea brings the heat! This trio took me by surprise but I would love to see more collabs in the future.
Oren Ashees: 90's, 2000's & 2020's icons together with the best references (shout out to The Doors), can't even believe this featuring exists ! They made it with such an amazing energy. Shout out to Queen Gwen Stefani, King Sean Paul & Shenyeng Queen Shenseea
This story syndicated with licensed permission from Frank at TrendingViews.com. Follow Frank on Facebook and Twitter