After the train derailment on February 3 in East Palestine, Ohio, Pete Buttigieg, the United States secretary of transportation, waited to visit the town for 20 days.
Only when he finally arrived, Buttigieg had to wait for 30 minutes to meet with Mayor Trent Conaway. This was because Conaway was too busy talking to former Trump attorney and NYC Mayor, Rudy Giuliani!
"I am grateful to Mayor Giuliani for being here to help us. My top priority is to ensure the health and safety of the people of this city and our region," Mayor Conaway said on Thursday.
"I will work with anyone who wants to help East Palestine, and their partisan affiliation is irrelevant to me," he noted.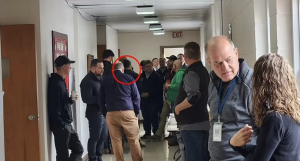 Buttigieg was kept waiting in the hallway for over 30 minutes while he was scheduled to speak with East Palestine Mayor Trent Conaway. The delay occurred because Conaway was meeting with Rudy Giuliani to discuss crisis management after a recent train derailment in the community that had spewed hazardous materials.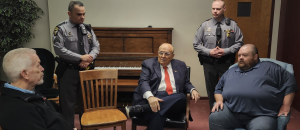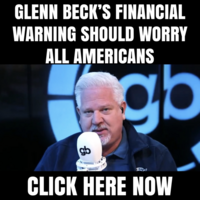 Buttigieg has faced criticism for the lack of federal government response to the incident, and he did eventually visited East Palestine earlier this week.
Representative Bill Johnson, who represents Ohio's district including East Palestine, also had a meeting with Giuliani. Following Donald Trump's visit to East Palestine on Wednesday, several other visits took place, including one from Buttigieg.
Giuliani criticized the government's response to the train crash that released hazardous materials into the air, ground, and water across Ohio and western Pennsylvania.
He said, "I've grown concerned about the lack of a response by our federal government to help the people of East Palestine. I wanted to offer my knowledge and experience when dealing with crisis' management and most importantly—to help the people here who are our fellow Americans."
TheDailyMail wrote on Thursday:
Residents of the Ohio village told DailyMail.com that they only think they are getting the deserved attention from the administration because former President Trump visited on Wednesday.

Trump said during remarks at the village's fire station on Wednesday that he would 'make time' to come back to East Palestine if Biden and Buttigieg did not keep their promise to fix issues plaguing the town after the toxic chemical release.

Giuliani also promised to Mayor Conaway to stay in touch for as long as clean-up and remediation efforts are ongoing, a person familiar with the conversation told DailyMail.com.

The former Trump attorney met with locals, including a resident named Courtney Miller, who showed Giuliani the damage to the stream behind her home.
On Wednesday, President Donald Trump visited East Palestine, Ohio after a train derailment has 'chemically nuked' the small town. The media and Biden White House have widely ignored this crisis as the locals deal with the chemical consequences.
After personally dropping off tens of thousands of pounds of water, food, and other goods, the former president decided to make a quick stop at a nearby McDonalds to hand out Big Macs. While handing out hamburgers, Trump also gave "Make America Great Again" hats to the workers.
WATCH:
Trump stops at a local McDonald's in East Palestine, Ohio. pic.twitter.com/T6c4tdS2Y8

— Charlie Kirk (@charliekirk11) February 22, 2023