Sources at Fox News say Tucker Carlson, despite seeing his primetime show canceled Monday, is still under contract as the network, which hopes to prevent him from moving on to a new venture until after the 2024 election.
Speaking on her Sirius XM show, former Fox News host Meghan Kelly said Thursday that informants within Fox are saying Carlson still needs to negotiate terms for an exit with his former network before he could become eligible to begin a new opportunity in conservative media.
Many have speculated that Carlson, who has been courted by Newsmax and One America News Network, could launch his own subscription service that rivals Fox with its breadth. Carlson regularly drew three million viewers to his 8 p.m. cable news show.
WATCH:
Former Top Fox News host and insider Megyn Kelly reveals Tucker not actually FIRED from Fox yet— This is what's REALLY happening…

— Benny Johnson (@bennyjohnson) April 27, 2023
Separately, two sources who spoke with Breitbart say both sides are actively working to reach a final separation agreement but Carlson would still have to abide by a non-disparagement clause which would prevent him from speaking out about his exit. Carlson on Thursday released a cryptic video message on Twitter that drew 57 million views in less than 24 hours.
Carlson was dismissed after reporting drawing the ire of Fox co-founder Rupert Murdoch and his son Lachlan in the wake of a $787 million agreement reached with Dominion Voting Systems to settle allegations that Carlson and others made defamatory statements about the company's voting machines. A popular theory is that the Murdoch family is considering selling the media empire, which faces at least three separate lawsuits including one from a former producer for Carlson who alleges sexist behavior by his staff.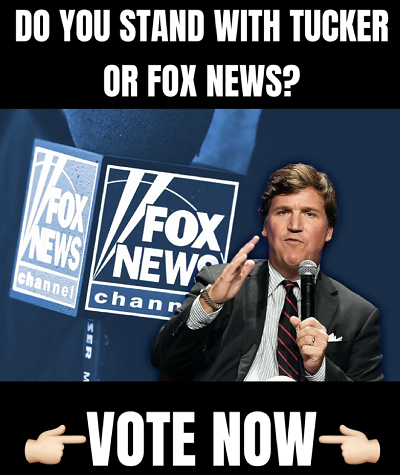 Day-over-day ratings for Fox's primetime hour have plummeted since Carlson left: Thursday's 8 p.m. viewership was 1.3 million fewer than the host's final show on Monday.
Fox News viewership at 8pm ET:
Tucker's finale: 2.65 million
Monday: 2.59 million
Tuesday: 1.70 million
Wednesday: 1.33 million

— Brian Stelter (@brianstelter) April 27, 2023
One insider who spoke with Breitbart believes Fox would like to see Carlson remain off the air through the 2024 elections in order to prevent his competition to their coverage, but that the network overplayed its hand.
"As of right now, the plan remains the same: pay out Carlson's contract and keep him on the sidelines through the 2024 elections," one source close to Fox News senior executives told Breitbart News. "They knew they would take a beating for this, but everyone — and I mean everyone — is pretty rattled. They weren't expecting the blowback to be this bad. Hate to say it, but it's clear that Rupert has lost a step or two."