During Thursday night's episode of Anderson Cooper 360, Clark Brewster, the attorney for Stormy Daniels, was asked about Trump's potential indictment and whether Daniels would be happy if the former president was arrested. Brewster then gave a surprising answer.
Cooper asked, "As you know, the former president denies any wrongdoing. He says this was an extortion plot. Some of his political allies have downplayed it as a mere personal transaction. Is there any doubt, in your view, that the payment was designed to help protect his campaign?"
Brewster replied, "Well, I think that reasonable people, knowing the facts and the timing, would reach that conclusion. I see no reason to believe otherwise."
Cooper then asked, "What does Ms. Daniels want to see happen here? Would she be pleased if the former president was indeed indicted?"
"Well, I don't know about pleased," Daniel's lawyer responded.
"I will tell you that, in my interactions with her — I have represented her now since March of 2019 — she's always been very straightforward and truth-telling. And I think, more than anything, she desires that the truth be told and found by (AUDIO GAP) and the denials and the accusations of dishonesty cease," Brewster finished.
Brewster has been representing Daniels in these lawsuits, which have been ongoing since 2018. In addition to the NDA case, Daniels also sued Trump for defamation after he called her allegations "a total con job" on Twitter. Both cases have involved complex legal arguments about contract law, campaign finance law, and the First Amendment.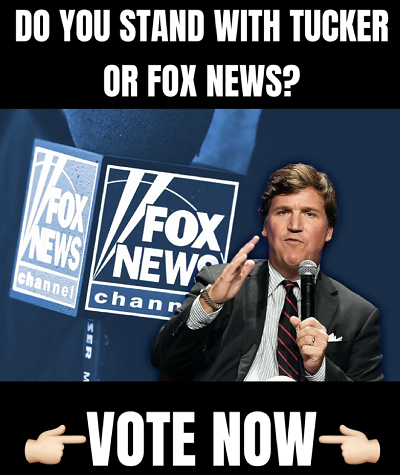 The case has garnered significant media attention and has been called a witch hunt deployed by the Left to smear Trump before his 2024 campaign.
Donald Trump shared a letter on Thursday from Stormy Daniels that dates back to 2018. In the letter Daniels denies ever having an affair with Trump.
The former president and 2024 hopeful also linked a TMZ article that reiterated her denial of ever having an affair. The article stated that she never had sexual relations with him and that she was not paid hush money. She also disputed the claim that the Wall Street Journal is overseas-owned and reported on the alleged payment of $130,000.
The letter Trump posted read:
Official Statement of Stormy Daniels

January 30, 2018

To Whom It May Concern:

Over the past few weeks I have been asked countless times to comment on reports of an alleged sexual relationship I had with Donald Trump many, many, many years ago.

The fact of the matter is that each party to this alleged affair denied its existence in 2006, 20011, 2016, 2017 and now again in 2018. I am not denying this affair because I was paid "hush money" as has been reported in overseas owned tabloids. I am denying this affair because it never happened.

I will have no further comment on this matter. Please feel free to check me out on Instagram at @thestormydaniels.
Thank you,

Stormy Daniels
SEE LETTER: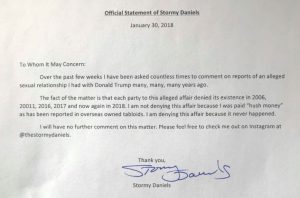 SEE FULL ANDERSON COOPER TRANSCRIPT:
So, I think she's more interested in the resolution of this being determined upon the truth, rather than anything else.

COOPER: As you know, the timing of this investigation has been called into question, given that it centers around a payment from back in 2016.

Did Ms. Daniels think this was all behind her, I mean, not just the legal saga, but having to deal with the former president's insults, things like that?

BREWSTER: Well, she's been through quite a lot, as your station has reported.

I mean, she's been through the Avenatti chronicles, the issues associated with a defamation lawsuit in California, as well as the nondisclosure litigation out there. But, more than anything else, I mean, she doesn't have any control over how this is prosecuted or brought to a jury in any way.

She simply is there and willing to support and tell the truth, whichever way it decides to go.

COOPER: If the former president is, in fact, indicted, and she was called to be a witness, would she be prepared to testify?

BREWSTER: Yes. She's made that very clear.

She would be willing to testify, and she would support her testimony with documented — documents and evidence and corroboration with witnesses, if necessary.

COOPER: I also know you provided the prosecution with communications between the former president's attorney in this matter, Joe Tacopina, and Stormy Daniels from back in 2018.

Can you explain, in kind of layman's terms, what those communications were about, how they may possibly impact any court proceeding?

BREWSTER: Yes.

So, Mr. Tacopina (AUDIO GAP) that he had never met Ms. Daniels and didn't have any attorney-client relationship. In fact, in February of 2018, there was a fair amount of exchange between Ms. Daniels and Mr. Tacopina's firm. She had a number of not only conversations, but extensive e-mails, outlining details of this transaction involving the former president, as well as witnesses and a chronology and what took place.

That series of written exchanges led to a direct conversation, a lengthy conference with Mr. Tacopina's firm. So, I would say that he's at least conflicted, to a point where he couldn't represent opposition on that issue against her.