GOP Rep. Kat Cammack shared two pictures on Twitter that helped her express anger towards the American government in regards to the nationwide baby formula shortage.
One picture showed full shelves of baby formula and foods at a processing center located down at the southern border. Another image was empty shelves in an American grocery store, where there may have been baby formula if not for the shortage, per report.
Related video: Tucker Carlson on baby formula shortage "they're hoarding it" – WATCH:
The Republicans are calling out President Joe Biden's failing administration and suggesting that Democrats are for Americans last while they pander to illegal immigrants at the border and try to send $40 billion to Ukraine while Americans are in need during inflation.
"*" indicates required fields
President Joe Biden and his administration don't seem to have any suitable answers that would make everyone happy and it's so bad that even people from CNN are calling out the Biden administration and himself for making bogus claims.
Cammack's tweet said: "The first photo is from this morning at the Ursula Processing Center at the U.S. border. Shelves and pallets packed with baby formula. The second is from a shelf right here at home. Formula is scarce. This is what America last looks like."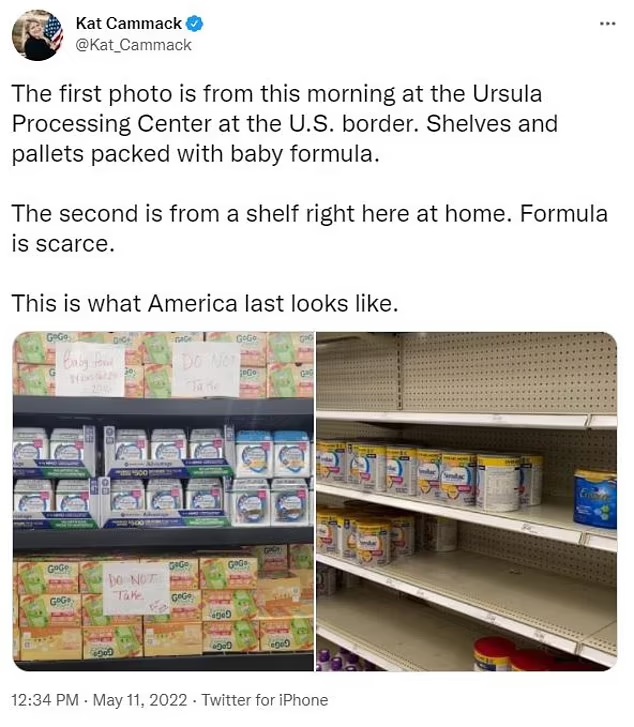 The shortage has gotten so bad that even former First Lady Melania Trump weighed in and blamed leadership for failing.
Former First Lady Melania Trump said the national shortage of baby formula is heartbreaking and blamed the failed 'leadership' on the dire situation that's causing American babies to lack food while the United States government seems more concerned with sending $40 billion to Ukraine instead of taking care of its own people.
Melania Trump said, during the segment on 'Fox & Friends Weekend:' "It's heartbreaking to see that they are struggling and the food is not available for children in 21st century, in the United States of America."
Pete Hegseth asked: "Why's it happening?"
Trump replied: "Leadership," – which seems to be a reference to Joe Biden's failing administration.
Melania Trump also stated: "I think it's sad to see what's going on if you really look deeply into it… I think a lot of people are struggling and suffering and what is going on around the world as well. So it's very sad to see and I hope it changes fast.
The NY Post previously reported on the baby formula shortage, with experts suggesting that President Joe Biden and the FDA 'dropped the ball' and failed to take care of a problem that has only gotten worse.
The FDA "dropped the ball'' on the country's baby-formula  crisis   —   shutting down a crucial plant on top of  product recalls and then not warning parents of the ramifications, experts told The Post on Friday.

Desperate moms and dads have been trawling stores across the country in search of baby formula ever since mega-manufacturer Abbott issued a safety recall in February for products made at its plant in Sturgis, Mich., over contamination concerns.

The Food and Drug Administration later closed the plant after federal inspectors found Abbott  failed to maintain sanitary conditions and procedures there — sparking a cascade of crippling effects on the supply chain.

"Somebody, whether it be Abbott or the FDA, should have realized, 'We're stopping production at one of a handful of plants that produces baby formula and what are the repercussions,' '' said William Marler, a lawyer specializing in food-safety cases, to The Post.

"That's where the FDA and Abbott dropped the ball. … They could have recalled the product without shutting the facility. They do recalls all the time without shutting the facility down."