Former President Donald Trump has openly criticized the recent gag order reinstated by U.S. District Court Judge Tanya Chutkan, an Obama appointee, that restricted him from speaking candidly about his ongoing federal election interference trial.
The former President took to Truth Social to vent his frustrations, claiming the gag order as an "unthinkable" violation of his First Amendment right to free speech, especially during his presidential campaign. He also suggested that the order intentionally disadvantages him against his "prosecutorial and political opponents."
Trump wrote, "I have just learned that the very Biased, Trump Hating Judge in D.C., who should have RECUSED herself due to her blatant and open loathing of your favorite President, ME, has reimposed a GAG ORDER which will put me at a disadvantage against my prosecutorial and political opponents."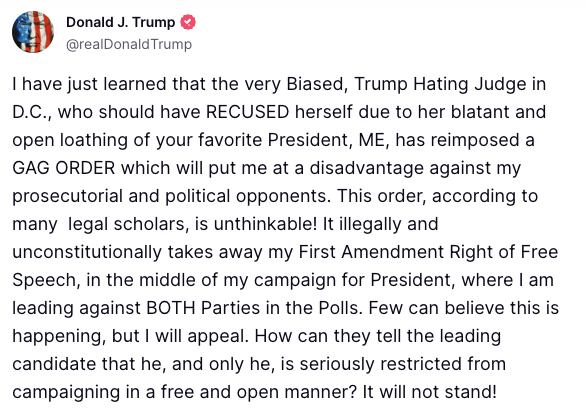 "How can they tell the leading candidate that he, and only he, is seriously restricted from campaigning in a free and open manner? It will not stand!" Trump finished.

Politico first revealed that the gag order, initially paused at Trump's request, was reinstated after arguments from Biden's Justice Department. They alleged that Trump's comments might intimidate witnesses, using as evidence a post in which Trump referred to his former chief of staff and co-defendant, Mark Meadows, hinting that "weaklings" might accept plea deals.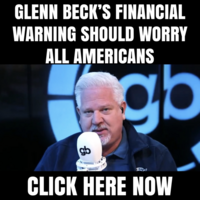 Last week, Meadows, who had served as the Chief of Staff to President Donald Trump, had strongly refuted allegations that he had worn a wire for the FBI. He had labeled these accusations as "ridiculous." Meadows' statement emphasized that the claims were "100 percent NOT TRUE."
ABC News had disclosed that Meadows had been granted immunity to testify under oath by special counsel Jack Smith. Meadows had met with Smith's team several times that year, revealing details about his interactions and discussions with Trump, particularly after the 2020 presidential election.
Sources close to ABC mentioned that Meadows had informed Trump that the allegations of significant voting fraud were unfounded, contrasting Trump's repeated assertions of election fraud. Meadows had reportedly told federal investigators that Trump's initial declaration of winning the election just hours after the polls closed was "dishonest." Meadows reportedly had been granted immunity after a request from his lawyer, allowing him to testify to a federal grand jury without the fear of self-incrimination.
In a comprehensive nine-page order, Judge Chutkan dismissed Trump's defense rooted in free speech. While recognizing Trump's rights to speak about his case, she asserted that such rights cannot impede the "orderly administration of justice." The Judge was keen to stress the balancing act between First Amendment values and potential prejudice from certain types of statements.
Interestingly, while Trump's comment about Meadows was deemed potentially problematic, another post where he promised "100% evidence" to prove that the 2020 election was stolen by Joe Biden was deemed acceptable under the gag order.
In addition to his criticisms of the order, Trump did not hold back on his opinions about Judge Chutkan, describing her as a "Biased, Trump Hating Judge" on his social media platform.
The backdrop to these developments is the charges against Trump related to the 2020 elections and the events of January 6th, 2021 at the Capitol. Jack Smith, the Biden-appointed special counsel, has been the target of Trump's ire, with the former President labeling him a partisan operative.