In a surprising twist amidst the ongoing civil trial, former President Donald Trump has announced a significant triumph in a New York City court. Speaking to reporters outside the courtroom on Monday afternoon, Trump stated that based on the judge's recent remarks, approximately 80% of the case against him would likely be dismissed.
Trump reflected on a pivotal moment in the trial, saying, "Well, I think that was very good. That last five minutes was outstanding because the judge essentially conceded that the statute of limitations that we won at the Court of Appeals is in effect. Therefore, about 80 percent of the case is over."
This development comes after Judge Arthur Engoron rejected Trump's request to delay the civil trial just last week. The New York Attorney General, Letitia James, had sued Trump, his children, and the Trump Organization, alleging fraudulent activities. The accusations centered around Trump "inflating his net worth by billions of dollars" and the involvement of his children in these alleged misrepresentations.
Despite the weight of the allegations, Trump has consistently criticized the proceedings. He expressed his dissatisfaction with not being entitled to a jury trial, a right he believes is fundamental in the United States.
"As you know, we're not entitled to a jury, which is pretty unusual in the United States of America. So we think it's very unfair that I don't have a jury," Trump remarked. However, he acknowledged the judge's fairness in the recent proceedings.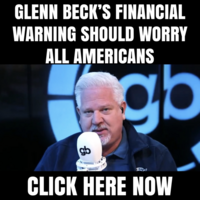 Seeking further clarification on the matter, Trump invited one of his lawyers to comment on the judge's statement. Trump's legal team provided insight, stating, "Based on the judge's comments at the end of the trial today, it would appear that he is agreeing that all the transactions that closed prior to 2014 are now out of the case." He further emphasized that this would account for about 80% of the case.
The former president has been vocal about his belief that the investigation is politically motivated, often labeling it a "witch hunt."
Earlier today, Trump wrote on Truth Social, "Just arrived at the courthouse to fight a corrupt & racist Attorney General, and a rogue, out of control, Trump hating judge, who refuses to follow the appellate court decision which knocks out 80% of this sham case."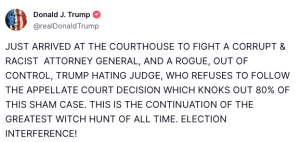 "This is the continuation of the greatest witch hunt of all time. Election interference!" the 2024 leading GOP candidate wrote.