During a recent TRUTH social post, former President Donald Trump warned that nuclear war was on the horizon.
On Wednesday, Biden announced that the U.S. would provide Ukraine with 31 advanced M1 Abrams tanks, valued at $400 million, in the coming months. The decision was made to resolve a diplomatic impasse with Germany over the best way to assist Kyiv in its conflict with Russia.
President Biden expressed his gratitude to Germany for their decision to provide Ukraine with Leopard 2 tanks: "Germany has really stepped up," he said.
In response to the announcement, Kremlin spokesperson Dmitry Peskov said, "There are constant statements from European capitals and Washington that the sending of various weapons systems to Ukraine, including tanks, in no way signifies the involvement of these countries or the alliance in hostilities in Ukraine."
"We categorically disagree with this, and in Moscow, everything that the alliance and the capitals I mentioned are doing is seen as direct involvement in the conflict. We see that this is growing," he said to reporters on Thursday.
While most other politicians are pushing for war, Trump is sounding the alarm.
"FIRST COME THE TANKS, THEN COME THE NUKES," he said on TRUTH social. "Get this crazy war ended, NOW. So easy to do!"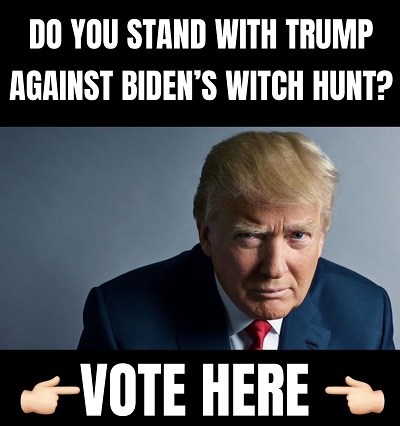 Trump seems to be one of a few who recognize just how close to nuclear war we are.
Russia has made it clear that they aren't playing around.
"This extremely dangerous decision takes the conflict to a new level of confrontation," Russian Ambassador to Germany Sergei Nechayev said  on Wednesday, also noting that the decision to send Leopard tanks to Ukraine was the "final refusal to recognize its historical responsibility to our people for Nazi crimes."
Fox News reports:
Foreign Ministry spokeswoman Maria Zakharova also claimed it was proof of "a war planned in advance" – echoing Moscow's false claims that NATO was planning aggressive action against Russia in the lead up to the war.

Russian media has also down-played the decision by Washington with one TASS report claiming that Abrams tanks are "vulnerable" to Soviet-era weapons.

One retired Russian general also reportedly told the state-owned outlet that Abrams tanks are "weakly suited for operation on dusty terrain like in Ukraine."

The coverage shows a stark comparison to Moscow's reaction when the U.S. first approved HIMARS for deployment in Ukraine, which prompted subsequent warnings over providing long-range strike capabilities and threats of nuclear escalation.

Russian took a similar tactic following the announcement last month that the U.S. and Germany would send Patriot missile systems to Ukraine – one of the worlds most advanced air defense systems but which Russian President Vladimir Putin described as "quite old."