Former President Donald Trump took to Truth Social early Wednesday morning to publicly criticize the New York Supreme Court Judge Arthur Engoron for targeting his children in the ongoing prosecution of the 2024 GOP frontrunner.
"Leave my children alone, Engoron," Trump said in the lengthy post to Truth Social. "You are a disgrace to the legal profession!"
Trump brutally excoriated the Democrat-appointed Judge, who is also a confirmed Democrat donor according to The Washington Examiner. He began,
"This Rigged Trial, brought by the Racist New York State A.G. Letitia James before Trump and developer Hating Judge, Arthur Engoron, which should have never been brought in that the so-called STAR WITNESS, SleazeBag Lawyer (for many people) Michael Cohen, admitted last week on the stand that he LIED, and also that your favorite President, Donald J. Trump, or anyone from the Trump Organization, NEVER TOLD HIM TO INFLATE VALUES ON FINANCIAL STATEMENTS, the opposite of what he told the A.G. in order to get this HOAX started."
He added, "Therefore, on that fact alone, this Fake Case should be dismissed."
Trump continued by once again refuting the valuation of his Mar-a-Lago property at the core of the trial. "Additionally, however, the Financial Statements Values are Conservative (LOW!), Mar-a-Lago is worth MUCH MORE than $18,000,000, there is a 100% Disclaimer Clause on the 1st page of the Statements, the Banks and Insurance Companies were paid in full, no defaults, they all made money, and there is no Victim (except me!)."
Finally, he concluded, "Leave my children alone, Engoron. You are a disgrace to the legal profession!"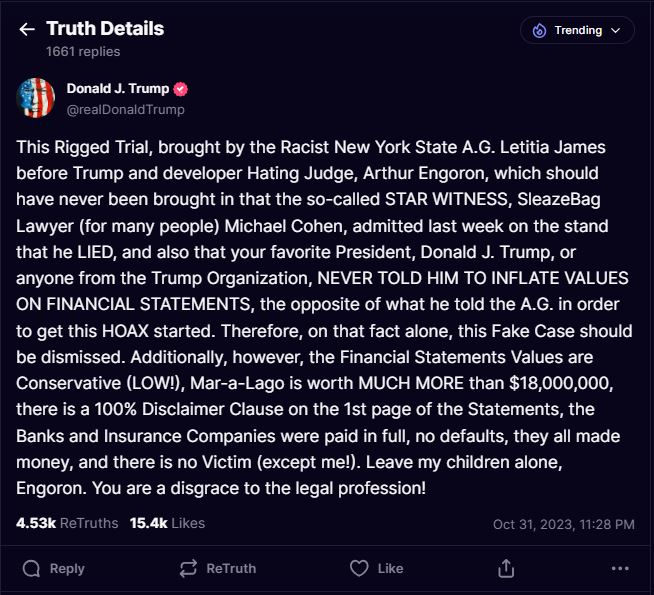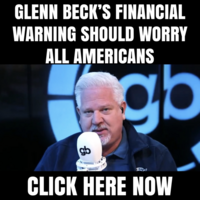 Donald Trump Jr. testified before the judge on Wednesday, with Human Events' Jack Posobiec noting that he was posting memes to X, while sitting in Engoron's courtroom. The particular meme in question seemed related to the recent '#Bootgate' scandal surrounding the footwear of Florida Governor Ron DeSantis.
According to NBC News, Eric Trump is scheduled to testify Thursday and even Ivanka Trump, although not a defendant in the case due to a successful appeal, will testify Friday.
In a subsequent post Turmp added, "Judge Engoron is a political hack who ruled against me before the trial even started. He is doing the dirty work for the Democrat Party. I was not even given the option of a jury, This Rigged Case should have never been brought, but since it was, it should have been in the Commercial Division, but Engoron WOULD NOT LET GO OF IT. He fought us, sanctioned us for no reason, fined us big money, never gave us even a one day delay. This is his big chance, and he was not going to let it go."
In a third post he concluded, "Engoron is crazy, totally unhinged, and dangerous – Our Judicial System has gone to HELL."
The former First Lady, Melania Trump has not yet been asked to testify as of this report, however she "shares her husband's view — and anger — that most of these legal issues are 'election interference by his political rivals,'" according to a report from People.