Former President Donald J. Trump didn't hold back in his response to recent criticisms from Nikki Haley, delivering a fiery rebuke that questioned her loyalty and integrity.
In a post that quickly gained traction, Trump referred to Haley as "Birdbrain Nikki Haley," alluding to her perceived lack of loyalty. He wrote, "MAGA, or I, will never go for Birdbrain Nikki Haley. No loyalty, plenty of lies!"
Trump went on to remind his followers of Haley's previous statements of support, quoting her as saying, "I will never run against our great President," and "he has done an outstanding job." Trump's response to those remarks was a sarcastic, "How nice of you to say, Nikki."
The former President also brought up a visit Haley made to his Mar-a-Lago resort, where she came "bearing gifts" with her family. However, Trump's tweet suggests that he viewed this gesture with suspicion, hinting that he believed it to be a mere political move on Haley's part.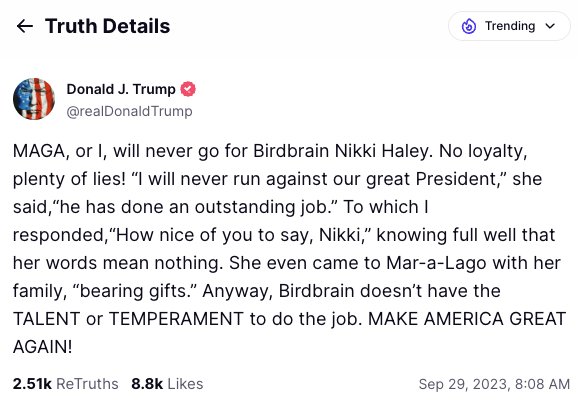 During the second RNC debate, Haley took a more confrontational stance against Trump Wednesday night. She criticized him by saying, "This is where President Trump went wrong. He focused on trade with China. He didn't focus on the fact that they were buying up our farmland. He didn't focus on the fact that they were killing Americans."
She continued, "He didn't focus on the fact that they were stealing $600 billion in intellectual property. He didn't focus on the fact that they put a spy base off our shores in Cuba. They didn't focus enough on the fact that all of our law enforcement drones in America are Chinese and we've got all these little surveillance cells."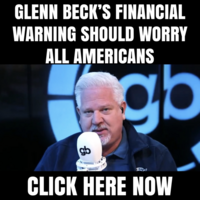 The relationship between Trump and Haley has been marked by both collaboration and tension over the years. Haley served as the U.S. Ambassador to the United Nations from January 2017 to December 2018 under President Trump. During her tenure, she was a vocal defender of many of Trump's foreign policy decisions, including the U.S. withdrawal from the Paris Climate Agreement and the Iran nuclear deal.
Throughout her time as UN Ambassador, Trump frequently praised Haley for her work, and she was seen as a rising star within the administration.
After leaving the Trump administration, Haley made several comments that were seen as critical of Trump, particularly regarding his handling of foreign policy and his rhetoric. However, she also defended many of his policies and actions.
After the 2020 election and the events of January 6, Haley criticized Trump's role in the events, stating in an interview that "we shouldn't have followed him, and we shouldn't have listened to him, and we can't let that ever happen again." This marked a significant departure from her previous supportive stance.
While Haley and Trump collaborated closely during her time in his administration, their relationship has been marked by increasing tension in the years since, the epitome of the widening divisions within the Republican Party.